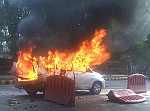 Iran on Tuesday said it has officially received documents, related to the Israeli diplomat attack case, from India two days ago.
"We just received those documents two days ago...only two days ago. When they (Delhi police team) were in Tehran, they explained the documents and fact-findings so far. We asked them to give the documents officially, through a proper channel and we would consider it carefully and investigate those,"
Iran's deputy minister for Asia, Oceania and Commonwealth (Central Asia), Seyyed Abbas Araghchi, told reporters in New Delhi.
Rubbishing the allegation that Iran was behind the attack, in which the wife of an Israeli diplomat was injured, he said, "Our enemies are not Israeli diplomats. We condemn the attack and we believe there is conspiracy against Iran, as the same conspiracy had been repeated in Thailand."
Four persons were injured when an Israeli embassy car was struck by a bomb near Prime Minister Manmohan Singh's official residence in New Delhi on February 13 this year.
Tal Yehoshua Koren, 42, wife of Israeli defence attaché Colonel Yossi Refaelov, suffered multiple injuries in the bomb blast. She was later flown to Israel on a special flight.
During the probe, the Delhi police arrested an Indian journalist Syed Mohammad Kazmi and went to Tehran get details of four Iranians suspects -- Houshang Afshar Irani, Mohammad Reza Abolghasemi, Seyed Ali Mahdian Sadr and Sedaghatzadeh Masoud.