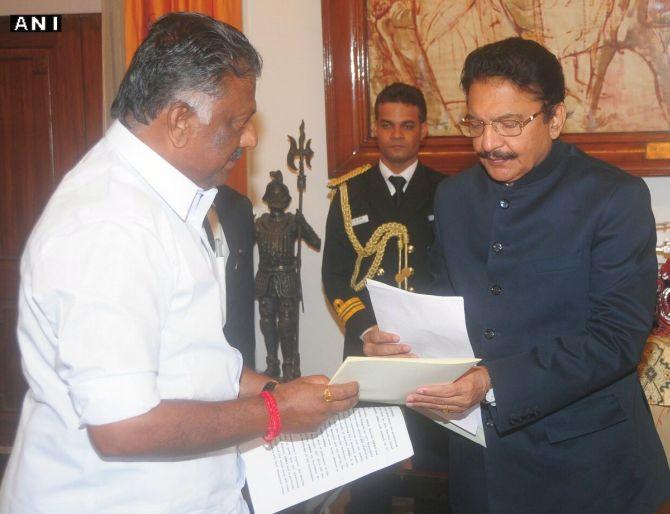 Tamil Nadu Chief Minister O Panneerselvam on Thursday held a brief meeting with Governor Ch Vidyasagar Rao amid the political uncertainty in the state and said that 'good things will happen' but did not elaborate.
"We had a detailed discussion with Governor Ch Vidyasagar Rao about all that is happening in Tamil Nadu... For sure, good thing will happen, dharma will win," he told reporters at his residence on returning from the Raj Bhavan.
The meeting came two days after Panneerselvam revolted against All India Anna Dravida Munnetra Kazhagam general secretary Sasikala, claiming that he was forced to resign from the chief minister's post.
Panneerselvam said he called on Rao along with senior leaders of his camp including, AIADMK presidium chairman E Madusudanan. He said they have the 'blessings' of late chief minister Jayalalithaa.
He quoted a popular Tamil verse of nationalist poet Subramanya Bharathi, the import of which is 'though dharma could be eclipsed by intrigue, it will be dharma which will triumph ultimately'.
He, however, did not take any questions and merely gestured with folded hands when asked about his discussions with the governor.
Earlier in the day, Panneerselvam had alleged it was Sasikala who had 'betrayed' the late Jayalalithaa and said Amma's Poes Garden residence, where she now stays, should be declared a memorial.
By accommodating persons who were expelled in 2011 by Jayalalithaa at the 'Veda Nilayam' Poes Garden residence, Sasikala had 'betrayed' Amma, he said, hitting out at her for calling him a 'betrayer'.
He said Jayalalithaa's residence where Sasikala continues to stay should be declared a memorial. Her personal articles should be protected, Panneerselvam said.
"This is the first step of the struggle to declare it a memorial," he said.
Addressing his supporters while welcoming AIADMK presidium chairman E Madusudanan, who is against Sasikala's elevation as the chief minister, Panneerselvam claimed she had given a 'false declaration that she had not even thought of betraying Amma', in an apology letter she had purportedly written to Jayalalithaa while being readmitted to the party after being expelled.
"Sasikala is saying that I have betrayed. Who has betrayed? Her letter to Amma in 2012 will say who has betrayed (Amma and the party)," he said.
Reading out the letter in front of his supporters, he claimed Sasikala had herself acknowledged that 'what her relatives and friends had done was unpardonable' and a 'blatant betrayal', and went on to ask if by accommodating them in the late CM's house she had not 'committed betrayal'.
"People will teach a lesson to Sasikala," he said.
Panneerselvam claimed that Sasikala had then said she did not want to involve herself in public life, nor was she interested in power or positions. However, now she was 'enacting drama and trying to usurp power', he alleged.
"I agreed to become Chief Minister after Amma's passing away considering party interests," he said.
Noting that circumstances began to change two days after he took over as the chief minister, Panneerselvam said when he was told that 'Sasikala should become general secretary, I asked why this sudden change?' "I was told that she will be in a position to steer the party in a united manner and I too believed it."
However, after assuming charge as party chief, 'with the idea of betraying the party, she also wanted to usurp the post of the chief minister'.
To enact the 'treacherous drama', and 'usurp power', Sasikala made ministers in his cabinet to speak against him and voice support for her elevation as the chief minister. He alleged that in doing so, Sasikala had 'belittled' the office of the chief minister.
Panneerselvam said, "We have not bought anyone, they themselves are giving us support. Several legislators have promised to come (join him)," adding, "Madusudanan has come here to lead the struggle."
On his part, Madusudanan said, "People do not like Sasikala."
People were asking him why he was standing in front of her with folded hands, he said.
"Only to seek pardon (for associating with Sasikala, I have come to the side of Panneerselvam," Madusudanan said.
Describing his breaking ranks with Sasikala as 'ara porattam', (a struggle based on values like dharma), Madusudanan said it was his name that was proposed for the party's top post of general secretary after the demise of Jayalalithaa.
Pledging support to Panneerselvam, former minister Natham R Viswanathan said he was 'identified' as leader by Amma.
Similarly, he said Madusudanan was appointed to the senior party position by Jayalalithaa and he has now joined Panneerselvam in the fight against the 'dominance of a family'.
AIADMK Rajya Sabha MP V Maithreyan said what began as a 'silent meditation' had now led to an 'uprising'. He hailed Panneerselvam as Jayalalithaa's successor.
Photograph:ANI