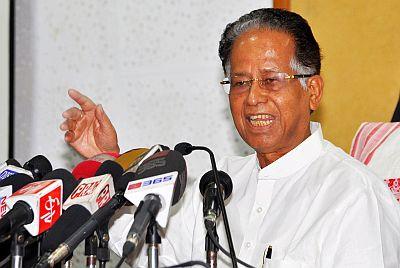 Assam CM says Nitish, Lalu will campaign for the Congress in the state polls next year.
In the backdrop of a starling victory registered by the 'Grand Alliance' in Bihar polls, Assam Chief Minister Tarun Gogoi on Monday mooted the idea of a 'grand understanding' among secular political parties in Assam before polls.
Gogoi asserted that the same fate was awaiting the Bharatiya Janata Party in the Assam polls next year if all the secular forces could forge a 'grand understanding' before the election. He said Bihar election heroes Lalu Prasad and Nitish Kumar would campaign for Congress in Assam in next year's assembly polls.
"The Congress would try uniting all secular forces in the state to keep 'communal' BJP at bay in next year's state assembly elections. We are ready to work with all secular forces -- the Left parties, Asom Gana Parishad, All India United Democratic Front -- to ensure defeat of the BJP," Gogoi said.
He, however, clarified, "There will be no pre-poll alliance in Assam, there can be a 'grand understanding'. The Congress will contest the Assam polls alone but we will work with secular parties to defeat the communal forces," he said.
Gogoi termed BJP's drubbing in Bihar a rejection of Prime Minister Narendra Modi's 'pro-rich policies' by the general public and dared the prime minister to free himself from the 'control of the Rashtriya Swayamsevak Sangh and its chief Mohan Bhagwat'.
He said the failure of Modi in fulfilling his poll promises had cost the party dear in Bihar.
Meanwhile, Assam BJP president Siddhartha Bhattacharrya said that lessons would be learned from Bihar polls even as non-BJP parties including AGP and Krishak Mukti Assam have called for the formation of an anti-BJP grand alliance in Assam too, while congratulating the people of Bihar for defeating communal forces.