Incessant rains pummelled Nashik city and other parts of the district in Maharashtra on Tuesday, triggering flood in Godavari river which has crossed the danger mark in the city.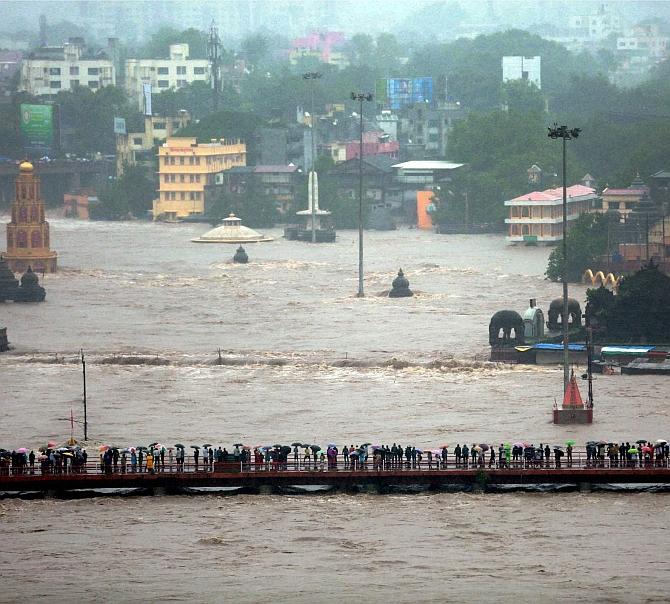 Many rivers across the district are also in spate due to heavy rains.
While one elderly woman was killed in wall collapse in the district, a couple is feared washed away in flash flood in Umrale village.
Unabated downpour which gained intensity in last 48 hours, caused water-logging in areas like Ramwadi, Bohorpatti, Bhandi Bazar, Saraf Bazar and in some slum pockets.
As authorities released water from Gangapur dam, the river level rose significantly, causing many bridges in Old Nashik area to undergo water.
"Irrigation department released thousands of cusecs of water from Gangapur, Darna, Palkhed and other dams following heavy incessant rain. This caused flood in Darna, Kadva and other rivers in the district," said an official from district collectorate.
In Nashik city, Godavari river water gushed into many areas adjacent to the river.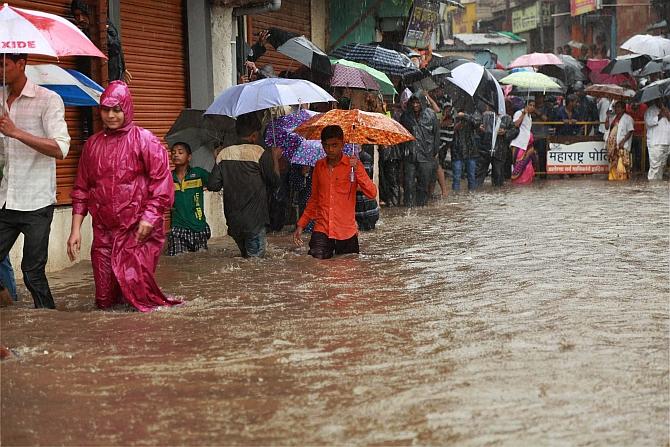 Many ancient temples located on the banks of the river submerged due to flood while few steps of famous Naroshankar temple near 'Ramkund' are also under water.
The administration has already alerted people staying in vicinity of the river to move to safer places as more water is likely to released from Gangapur dam in night.
Authorities have declared holidays to schools and colleges for two days in view of rains.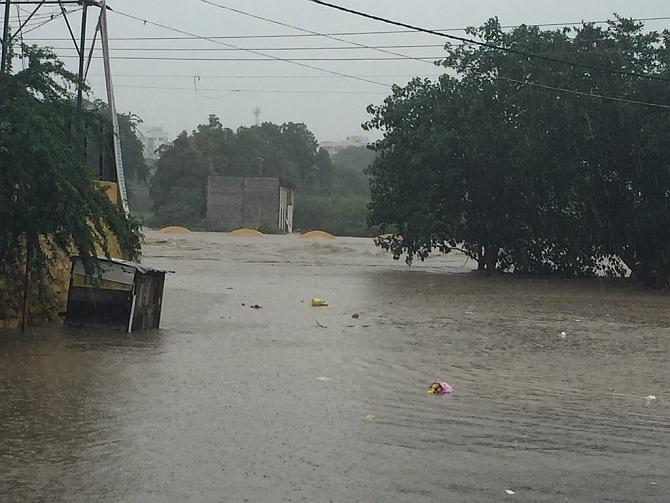 Senior officials, including Police Commissioner S Jagannathan and Collector Radhakrishanan, are closely monitoring the flood situation.
Meanwhile, heavy rush of people to witness flood caused traffic snarls in areas like Someshwar, Old Nashik, Holkar Bridge, etc.
According to an official, all seven doors of Nandur Madhmeshwar dam were opened today, which caused flood water to gush into Chandori and Saykheda villages.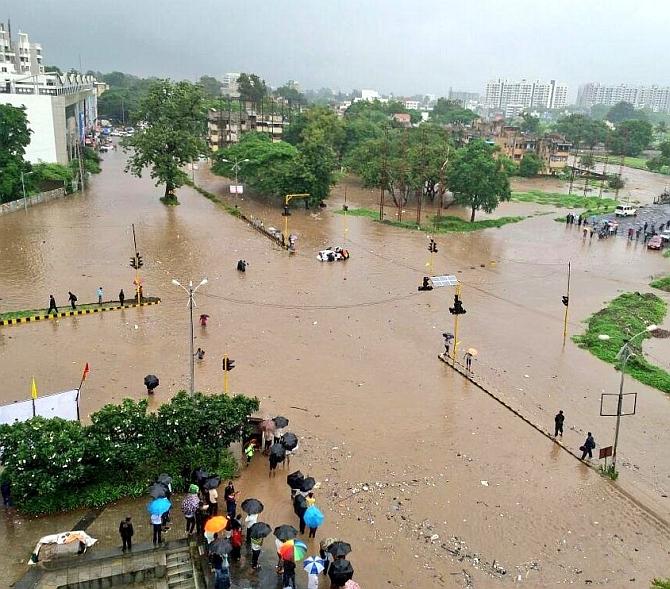 The administration has sought help of 300 Army jawans to meet any eventuality, especially in Chandori village.
In a rain-related mishap, a 75-year-old-woman was killed when wall of her house collapsed at Induri village in Dindori taluka. A couple, identified as Ashok Karate and his wife Sakhubai, are feared washed away in flood at Umrale village, an official said.
Photographs: PTI Photo & Nashik Police/Twitter