The Goa Investment Promotion and Facilitation Board, the BJP's brainchild, has been able to create only 1,500 jobs, reports Sohini Das.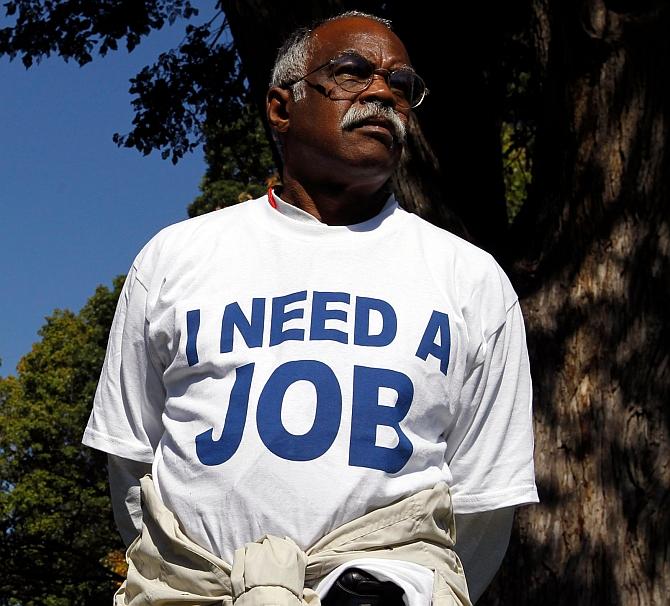 Goans want jobs, simply put, this is at the heart of assembly elections in India's smallest state.
While every political party has promised to create jobs and make Goa unemployment-free in the next five years, looking at things on the ground, it all seems uphill.
Sample this: The Goa Investment Promotion and Facilitation Board, the Bharatiya Janata Party's brainchild to attract fresh investments and make way for smooth clearances, has been able to create only 1,500 jobs in the past few years.
While 151 projects were sanctioned with an investment commitment of Rs 11,482 crore and employment generation potential for 25,980 people, only 16 projects have been completed and 25 are under execution.
Manohar Parrikar, former Goa chief minister, said there is a potential of at least 24,000 jobs through the projects approved by IP&FB.
'Skill enhancement is thus our focus,' he said.
Unemployment in Goa is 9.6 per cent (going by the 2015-2016 Union labour ministry report), much higher than its neighbouring states: Gujarat 0.9 per cent), Karnataka 1.5 per cent, and Maharashtra 2.1 per cent.
Even after the Supreme Court lifted the mining ban in 2014, Goa's rural unemployment was 13.8 per cent in 2015-16.
Unavailability of land for new projects is the biggest hurdle to employment.
R S Kamat, director general, Goa Chamber of Commerce and Industry, pointed out that a huge amount of land is locked in eight scrapped special economic zone projects.
"While 20 industrial estates in Goa (plotted and developed by the Goa Industrial Development Corporation) have a total landmass of 17,418,000 square metres, the eight SEZs alone have around 3,556,000 square metres of land," he said.
In a state which has total land area of 3,702 square kilometres, including sensitive coastal belts where environmental regulations do not allow development to take place, land is indeed a precious asset.
Government sources indicated GIDC is now working on a plan to release land in its existing industrial estates by reducing compulsory provision of 15 per cent open area.
"From 15 per cent, it would be brought down to 7.5 per cent, thus releasing 7.5 per cent of the 17,418,000 square metres of land for expansion of existing projects," said a senior official.
The state government has also stepped up plans for acquiring 150,000 square metres of land for new industries.
While the state administration is trying to bring in more private investment in Goa, Goans prefer government jobs to private ones.
There are around 50,000 public servants in Goa for a population of 1.4 million; that roughly works out to one public servant for every 28 people in the state.
Tapping this sentiment, political parties have extended the age for securing a government job in Goa to 45 years.
But, there is hardly any hope for new job creation in the government.
As for private sector units, the typical size of industry here is Rs 100 crore to Rs 500 crore with job opportunities for 500 to 1,000 people at best, informs Kamat.
Goans, as such, are not for heavy industries, which is why there are no steel units here despite availability of iron ore.
The Electronic City at Tuem, and the information technology park at Chimbel, are expected to create 15,000 to 20,000 jobs.
Goans are banking on these two projects to bring back those who had left for greener pastures.
Assembly Elections Coverage:
Uttar Pradesh ' Punjab ' Goa ' Uttarakhand ' Manipur
Representative Image: Reuters