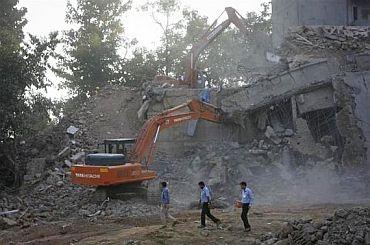 With the recovery of three more bodies from the debris, the death toll in Canacona building collapse in Goa has risen to 24 even as the operation to remove the rubble has entered its final phase.
"We recovered three more bodies from the debris of the building last night and search is on for more," Ashok Menon, incharge of rescue operation, said on Thursday.
He said the rescue operation had been continuing manually after buildings adjacent to the site tilted.
The demolition of these buildings is likely to start on Thursday, he added.
More than 40 people were trapped under the debris when the under-construction five-storey building caved in on Saturday afternoon.
Rescuers have since managed to pull out 16 people alive from the debris.
Police had arrested Deputy Town Planner Prakash Bandodkar on Monday night in connection with the collapse.
However, Municipal Engineer Ajay Desai and three directors of a property firm (Bharat Realtors and Developers), constructing the structure, are still untraceable.