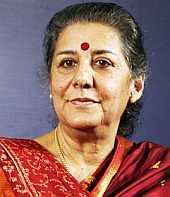 Union Information and Broadcasting Minister Ambika Soni on Friday accused news channels of helping civil society activist Arvind Kejriwal to malign the image of people by airing his "unsubstantiated allegations of wrong-doings".
"Kejriwal has floated a political party and wants to contest the elections in Delhi. To boost his image, he is levelling allegations without any proof and you (TV channels) are helping him by airing these allegations," she told reporters in Srinagar.
Soni said if Kejriwal has any proof of any wrong-doing by United Progressive Alliance chairperson Sonia Gandhi's son-in-law Robert Vadra, he should submit it to the concerned authorities for investigation.
"In public life, we have to be careful. We cannot level allegations without proof. If an accusing finger is pointed towards someone the other three are pointing towards oneself," she said.
Asked if the government was ready for a Central Bureau of Investigation probe into the allegations that Vadra had got huge benefits from realty major DLF, Soni said she was not competent to order such a probe. "Who am I," she posed.
She said the transactions of the DLF and businessmen like Vadra were open to scrutiny as they regularly file income tax and wealth returns.
Reacting to Kejriwal expressing doubts over the income tax department being effective in probing the allegations against Vadra, she said, "If the department can conduct raids across the country why not inquire into these allegations? Why does he not give proof?"
On the allegations leveled by the Gujarat Chief Minister against Sonia Gandhi, she said Narendra Modi has done several flip flops after realising that people of the country did not like raking up personal issues.
Initially, Modi raked up the expenses on medical treatment but later claimed that he was referring to cost incurred in foreign trips, she said, adding, "now he says it had nothing to do with Gandhi and he was putting questions to the prime minister".