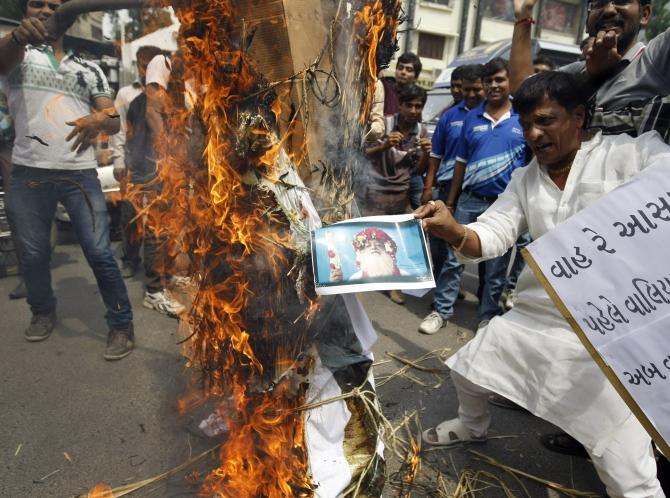 Self-styled godman Asaram Bapu refuted the rape charge against him on Tuesday by a 16-year-old girl, saying her medical report does not support her allegation as the court put off till Wednesday hearing on his bail plea.
Seventy-two-year-old Asaram was sent to jail on Monday after he was remanded in 14-day judicial custody by a court in Jodhpur. Asaram was arrested in Indore following a first information report lodged by the victim that she was sexually assaulted by him.
Asaram's counsel K K Menon, arguing on his bail plea before District and Sessions Judge (rural) Manoj Kumar Vyas, alleged that the police had worked under the pressure of media and prepared FIR in a hurry.
After hearing for two hours the arguments by the defence, the magistrate said the hearing in the case will continue on Wednesday and prosecution would be heard.
Menon later told reporters, " The FIR against Asaram does not stand as there are several lacunae in it."
"There were some additional inputs in the FIR after the medico legal certificate conducted on the victim. The MLC report does not support the statements made by the girl. Hence, the case does not fall under section 376 (rape charge) of the Indian Penal Code...outraging of modesty is not attracted...it is bailable, and bail should be granted to my client," he said.
Asaram was not brought to the court from the Jodhpur central jail when his bail plea was taken up for hearing. He has been booked under sections 376, 342, 506 and 509 of the IPC, section 8 of the Prevention of Children from Sexual Offences Act and sections 23 and 26 of the Juvenile Justice Act in connection with the alleged assault. The defence claimed that the victim was not minor as was being claimed and in fact was an adult and so the charges under POSCO against Asaram also do not stand.
Asaram was arrested amid high drama on the intervening night of Saturday-Sunday in Indore and brought to Jodhpur on Monday for interrogation. He has denied the charges. He has cleared a potency test conducted on him at the SN Medical College in Jodhpur. To recreate the incident, the police had also taken to his Manai Ashram, about 30 km from Jodhpur, where the girl was allegedly sexually assaulted.

Image: Protestors burn an effigy and pictures of Asaram Bapu during a demonstration in Ahmedabad

Photograph: Reuters