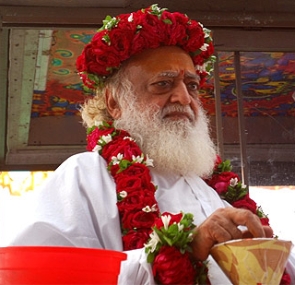 Controversial self-styled godman Asaram Bapu, against whom a complaint of sexual assault was filed by a teenage girl, on Monday claimed that he was innocent and regarded the victim as his "daughter".
"I feel very sad when this girl is termed as a rape victim. She is like my daughter, grand-daughter or niece. She is not a victim, far from that. The rape victim is the one who is violated but this girl is pure in my view," Asaram said during a discourse at his ashram located on Khandwa Road.
He alleged that saints are purposefully being maligned as part of a larger conspiracy.
"Baseless allegations are levelled against me because I preach Indian culture during my discourses. In the last four-and-a-half years, I have been accused of practicing black magic and tantrik practices, but none of them stood legal scrutiny," he said.
The self-styled godman was recently booked for allegedly sexually assaulting the 16-year-old girl in Jodhpur ashram. He arrived in Indore on Sunday to spend time in "solitude".
"Allegations are levelled against me, especially in the months of July and August, because this is the period when monsoon frogs come out in open," the 72-year-old spiritual guru said.
When asked who he was referring to with the metaphor of "monsoon frogs", Asaram parried the question, saying, "You get trained yourself and you will get to know the answer".
He replied in the negative when asked whether he would file a petition seeking anticipatory bail in the rape case.
Asaram said that he would hold discourses across the country for jail inmates who are innocent and if needed, he would help them get legal aid.
To a query about why he compared himself with Lord Ram, Srikrishna and Guru Nanak, Asaram said he merely spoke about the events in their life.
"People spread this misinformation against me," he alleged.