Israeli troops dragged sobbing Jewish settlers out of homes, synagogues and even a ursery school Wednesday and hauled them onto buses in a massive evacuation, fulfilling Prime Minister Ariel Sharon's promise to withdraw from the Gaza Strip after a 38-year occupation.
Soldiers carried away worshippers still wrapped in their white prayer shawls. Wailing men ripped their shirts in a Jewish mourning ritual. Women in a synagogue pressed their faces against the curtain covering the Torah scroll. A woman set herself on fire at a police roadblock in Israel.
Indians to leave Neveh Dekalim settlement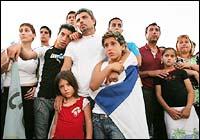 In Gaza, settlers kicked and screamed as they were loaded onto buses. One woman in Neve Dekalim shouted, "I don't want to! I don't want to!" as she was carried away.
Irate residents in one outpost employed Nazi-era imagery -- including stars of David on their T-shirts -- to protest the military's actions.
But there were no signs of serious violence in the settlements as a growing number of residents appeared to be coming to terms with the withdrawal.
"I believed that God would not let this happen, but this is not true," a woman said in the isolated settlement of Morag while clutching her baby.
Sharon, who championed the settlements for years, said the images of settlers being removed from their homes were heartbreaking.
"It's impossible to watch this, and that includes myself, without tears in the eyes," he told a news conference. But he urged settlers to show restraint.
"I'm appealing to everyone. Don't attack the men and women in uniform. Don't accuse them. Don't make it harder for them, don't harm them. Attack me. I am responsible for this. Attack me. Accuse me," Sharon said.
The operation capped a bruising political battle for Sharon, who proposed the withdrawal more than 18 months ago as a way to reduce friction with the Palestinians. Opponents accuse him of caving in to Palestinian violence and abandoning the dream of full control over the biblical Land of Israel.
Netanyahu resigns over Gaza withdrawal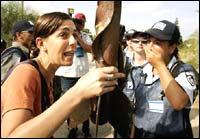 Throughout the day, some 14,000 troops entered six Jewish settlements: Morag, Neve Dekalim, Bedolah, Ganei Tal, Tel Katifa and Kerem Atzmona.
In several settlements, including the largest – Neve Dekalim, army commanders were trying to persuade residents to leave voluntarily.
Security officials said the goal was to clear out the 21 Gaza settlements in just a few days, far more quickly than originally planned. But thousands of pullout opponents who infiltrated Gaza in recent weeks remained.
In Neve Dekalim, a grizzled colonel, with tears in his eyes, shook hands with a young father, cradling the man's tiny baby, as he explained it was time to go. Another commander, identified only as Yitzhak, tearfully hugged another settler.
"It's not easy. These are very special people. This is the salt of the earth," Yitzhak said. "But we have a mission and we will carry it out, and I think these people understand that."
Some teenage activists -- many West Bank activists -- showed fierce resistance. Troops dragged dozens of protesters, some as young as 12,
onto buses and took them away.
"I want to die!" screamed one youth as he was hauled off.
Several soldiers were hit by white paint bombs, and protesters smashed a bus window.
Hundreds of protesters holed up in the town's main synagogue.
Major General (retd) Ashok K Mehta's Diary
A group of teenage girls sang, "I believe in the messiah," and many cried while pressing their faces to the curtain covering the Torah.
In Morag, soldiers encountered cement blocks and burning garbage containers early Wednesday, briefly clashing with residents. But as the day dragged on, protesters gradually surrendered.
Under a weeping willow tree at a children's nursery, mothers clutched their babies, soldiers carried toddlers, settlers ripped their clothes and troops loaded diapers and toys onto buses for evacuation.
A female soldier with tears in her eyes held a toddler in her arms, gave him some candy and implored, "Where is his mother?" Another soldier waved away flies from a toddler lying in a stroller.
Troops carried dozens of worshippers out of the local synagogue, in one case escorting a crying man covered by a prayer shawl. Some kept praying in front of the Torah as soldiers removed others.
Soldiers also removed families from their homes. Female residents walked out under army escort, while the men let themselves by carried. One resident, Eran Hendel, lay on the floor, read a psalm and ripped his shirt collar before being carried away.
In the hardline outpost of Kerem Atzmona, irate settlers shouted at soldiers: "Nazi!" "Refuse orders!" and "Jews don't expel Jews!" Soldiers dragged the flailing residents out of their homes and loaded them onto buses, as children sat in their homes crying.
In the Bedolah settlement, Rabbi Menachem Froman hugged and kissed a Torah scroll as he was led out of the local synagogue. A soldier held him up by the elbow. The elderly, white-bearded rabbi, who lives in a West Bank settlement, advocates coexistence with the Palestinians.
In Kfar Darom, another center of fierce resistance, 65 families and 2,000 protesters barricaded themselves behind barbed wire but said they would not resist violently, the Haaretz newspaper reported.
The Gaza pullout is to be accompanied by a withdrawal from four small West Bank settlements. Security officials have expressed fears that the West Bank pullout could be more violent, given the land's biblical significance to observant Jews.
A 54-year-old West Bank woman opposed to the Gaza pullout set herself on fire Wednesday in southern Israel, suffering life-threatening burns over 70 percent of her body, police and hospital officials said.
She had the smell of gas on her, a paramedic said.
Israel, Palestine agree on ceasefire   
Sharon, meanwhile, reiterated Wednesday he would never give up the West Bank's largest settlement blocs. He said settlers' efforts were not in vain, but it no longer was realistic to hold on to Gaza, where 1.3 million Palestinians live in crowded, impoverished conditions.
"True they (settlers) had a dream, and I did, too, that can we hold on to all the territory, or most of the territory, but things have changed," Sharon said.
The army said it arrested 52 Israelis headed Wednesday to Homesh, one of the settlements slated for evacuation.
Once Gaza is cleared of civilians, it will take troops about a month to dismantle military installations and relinquish the coastal strip to Palestinian control.
The Palestinians have deployed thousands of troops to prevent any attacks on settlers or Israeli soldiers during the withdrawal. Palestinians have welcomed the evacuation but also fear that Israel is trying to draw borders without negotiations.