Investigators from the IG-headed Special Investigation Team on Thursday pored over the CCTV footage of the scene of murder of activist-journalist Gauri Lankesh for clues in the hunt for the killers even as her family spoke against giving "political colour" to the incident.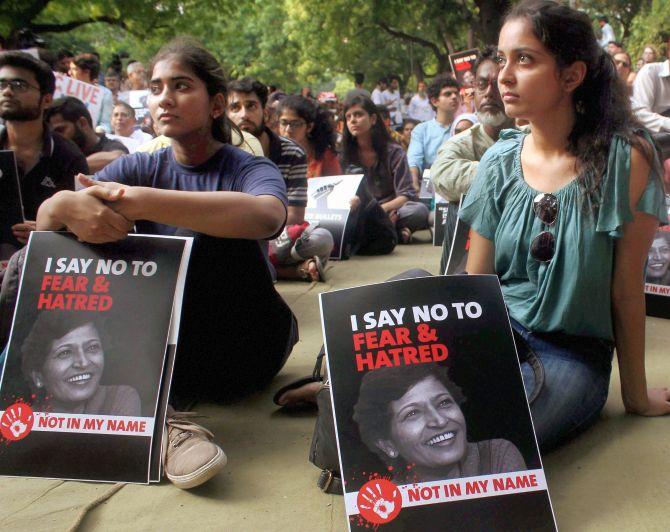 The brother and sister of 55-year-old Gauri, who was gunned down at her home on Bengaluru on Tuesday night, also appeared divided on the probe with the former saying he would approach the Central Bureau of Investigation or a court if they don't get justice from investigations by the SIT.
As outrage across the country over the murder grew, Union minister Ramdas Athawale demanded that the killers be immediately arrested and hanged. He also said there was no need for levelling political allegations over the incident.
The Karnataka government on its part said it was hopeful of nabbing the assailants "as soon as possible."
Protest rallies and candlelight vigils were also held for the second day in several cities. "We need a CBI probe into the murder," said a student protester in Kolkata.
The Karnataka government on Wednesday announced the formation of a 21-member SIT headed by IGP-Intelligence B K Singh to probe the killing that has led to a wave of countrywide protests and condemnation across the political spectrum.
"SIT members have started their investigation into the Gauri Lankesh murder case and the state government is hopeful of nabbing the assailants as soon as possible," Home Minister Ramalinga Reddy told reporters.
Asked whether police had given some hints on the ideological identity of the assailant based on prima facie evidence gathered by them, Reddy said, "The duty of SIT members is to investigate and nab the assailants. They may have some prima facie evidence, but they have the prerogative of not making it public."
He said police are screening footage of the seized CCTV fixed at the location where Lankesh was gunned down. The SIT personnel also searched for clues at the murder scene.
Asked if there was any political compulsion for deciding against a CBI probe, Reddy said, "who said this? We are open minded, and that is what Chief Minister Siddaramaiah said. If we feel the case is needed to be probed by CBI, we will hand over the case to it."
Gauri, who is known to be an anti-establishment voice with strident anti-right wing views, had returned home in her car and was opening the gate when motorcycle-borne assailants sprayed bullets at close range with two hitting her in the chest and one on her forehead, police had said.
As a political slugfest erupted on the killing, her family made a plea against giving political colour.
The family also said the probe should look into all angles behind Gauri's killing, whether it is right wing or Naxals, as reports have emerged about possible Naxal hand other than suspected involvement of right wing extremists, the ideology that Gauri had opposed throughout her life.
"I request, please don't give political colour to Gauri's killings, please give justice for a journalist, a woman and to our sister," Gauri's brother Indrajit Lankesh, flanked by his other sister Kavitha Lankesh, told reporters.
Asked about Rahul Gandhi's attack on Prime Minister Narendra Modi, the Bharatiya Janata Party and the Rashtriya Swayamsevak Sangh in connection with the killing, he said he did not want to comment on it.
"What we want is justice and please don't add political colour to it, add ideological colour if you want, because she stood for her ideologies," he said.
"Please don't take advantage by giving political colour to it. What I want to tell politicians, whichever party they are from, please don't colour this with political angle."
While Indrajit favoured a CBI probe, Kavitha said the SIT which is currently investigating should be given time.
Indrajit said, "We don't know how far it will go, but the family has decided let this (SIT) be there for now. Personally as a journalist what I request is if we don't get justice I will give memorandum to the CBI or retired judge (for inquiry), because we want justice."
On whether they will ask for a CBI probe only on not getting justice from SIT or immediately demand for probe by the central agency, Kavitha said, "It has become a fashion I think to say CBI, CBI."
Immediately intervening, Indrajit said "according to me it's not a fashion, nor do have I complete confidence. The family will completely cooperate with the SIT. If we don't get justice, I personally -- I have not spoken to my sister (Kavitha) or mother about it -- I will go to CBI."
When reporters specifically asked both of them for clarity as to how much time they would give to the SIT before going to the CBI independently, Indrajit said, "What we want is justice for our sister and family."
He said "At the end of it, it is not about going to the CBI or special judge or the SIT, it is about getting justice, for that I'm ready to anything and my family also are there with me. We are all together to get justice for our sister."
He said whether it is Naxals or right wing extremists behind the killing, the entire journalist fraternity needs an answer, as a journalist who stood for her values has been killed.
Indrajit said Gauri had no personal enmity towards anyone. Gauri had only ideological enemies, no personal enemies.
"Every angle has to be probed whether it is right wing extremists or Naxalites or any other angle, it has to be probed," he said, adding that because she was rehabilitating them (Naxals), if there was any differences, it has to be probed.
Meanwhile, Chief Minister Siddaramaiah reiterated that the government had an "open mind" on a CBI probe.
He said he had met Gauri's mother, brother and sister and that they had not insisted on CBI probe.
IMAGE: Demonstrators hold placards with the picture of Gauri Lankesh during a 'Not In My Name' protest at Jantar Mantar in New Delhi on Thursday. Photograph: PTI Photo