The Nyoma airfield, which will be one of the world's highest, will sharpen the IAF's capability along the northern border.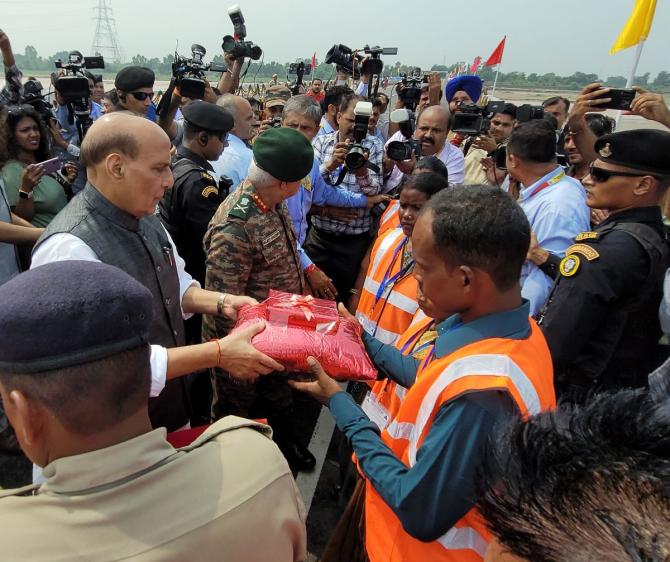 Defence Minister Rajnath Singh at an event in Jammu on Tuesday, September 12, 2023 inaugurated 90 infrastructure projects of the Border Roads Organisation (BRO), worth over Rs 2,900 crore (Rs 29 billion). These projects are spread across 11 states and Union territories.
The projects include 22 roads, 63 bridges, one tunnel, two airstrips, and two helipads across 10 border states and Union territories of northern and northeastern regions. The projects include the strategic Nechiphu Tunnel in Arunachal Pradesh and two airfields in West Bengal.
'With the inauguration of 90 projects worth Rs 2,900 crore, a record 295 infrastructure projects of the BRO, at an overall cost of approximately Rs 8,000 crore, have been dedicated to the nation since 2021,' stated a press release from the ministry of defence.
In 2022, 103 projects worth approximately Rs 2,900 crore were inaugurated; while in 2021, 102 projects at a cost of over Rs 2,200 crore (Rs 22 billion) were dedicated to the nation.
The ministry of defence has commended the BRO for completing the construction of these strategically important projects in record time. Most of these projects were completed in a single working season, using state-of-the-art technology.
Devak Bridge
Amongst the crucial projects completed was the Devak Bridge on the Bishnah-Kaulpur-Phulpur Road. This state-of-the-art, 422.9 metre-long, Class 70, reinforced cement concrete bridge is of strategic importance.
Nechiphu Tunnel
Another crucial infrastructure project the minister inaugurated was the 500 metre-long Nechiphu Tunnel situated on the road from Tezpur to Tawang in Arunachal Pradesh.
This tunnel, along with the Sela Tunnel -- which is under construction -- will provide an all-weather connectivity to the strategic Tawang Region. Singh had laid the foundation stone of the tunnel in October 2020.
Bagdogra and Barrackpore airfields
The defence minister also dedicated the Bagdogra and Barrackpore airfields in West Bengal to the nation. These airfields, reconstructed at a cost of over Rs 500 crore (Rs 5 billion), will bolster Indian Air Force operations and facilitate commercial flight operations in the region.
Nyoma airfield
Singh also laid the foundation stone of the Nyoma airfield in Eastern Ladakh virtually.
This airfield, being developed at a cost of approximately Rs 200 crore (Rs 2 billion), will boost the air infrastructure in Ladakh and augment the IAF's capability along the northern border.
The defence minister exuded confidence that the airfield, which will be one of the world's highest, would prove to be a game-changer for the military.
Singh expressed hope that the BRO would soon set another record with the construction of the Shimku La Tunnel -- the world's highest tunnel -- at an altitude of 15,855 feet.
This tunnel will connect Lahaul-Spiti in Himachal to the Zanskar Valley in Ladakh.