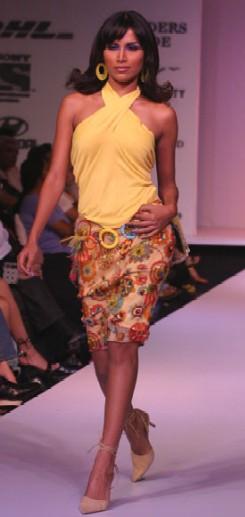 The bubblegum colours of Kuch Kuch Hota Hai came alive on the ramp in Suneet Verma's pret line, Le Spice.
Verma showed a fun, feel-good line of womenswear that comprised T-shirts, tops, skirts -- which included floor-length A-line skirts, short skirts with beaded tassles and matching embroidered belts -- and dresses. Slim-cut trousers were also teamed with colourful tees and singlets.
"I wanted to create a young, interesting look for the line. I have been working on my pret line for the last 10 months and perfecting the look and the price," says Verma.
Candy yellows, blues, pink and red on lyrca, georgettes, chiffons and knits created a look that was very summery, very breezy.
Verma admits the collection was not so much about the winter look as it was about getting the pricing right and making clothes that would appeal to everyone.
He got that bang on.
The collection can be worn as separates or sets, depending on the occasion and effect.
Le Spice is priced between Rs 800 and Rs 2,200.
Photograph: Jewella C Miranda
Editorial support: Imran Shaikh