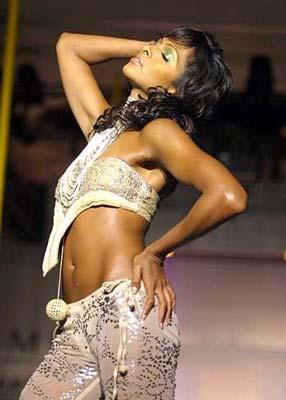 A bit of pole dancing. Barstools on the ramp. A rather subduded palette. Rina Dhaka's collection threw a few surprises.
The clothes were essentially simple, the accessories minimal and the look much more sober than what we had come to expect from her.
Yet, the collection was received enthusiastically.
"I think it is fabulous and really glamorous. I think Rina has got the styling just right for the coming season," said designer Rocky S after the show.
Rina interspersed a lot of beige, brown and cream with silver, grey and gold. For detailing, she used applique work and metallic sequins in a big way.
Accessories were almost absent, except for broad belts and wigs, which Rina says she used to give the entire collection a '1940s look'.
"I have tried to keep the clothes very simple. There's no fancy detailing or too many accessories or too much makeup," she adds.
Rina's pret collection is likely to be priced between Rs 1,200 and Rs 15,000.
Click here for glimpses from Rina Dhaka's collection.
Photograph: Jewella C Miranda
Editorial support: Imran Shaikh