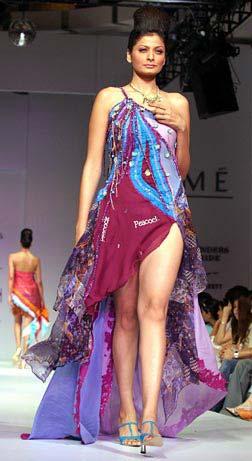 Designers Shane and Falguni Peacock married jewellery to clothes and presented crystal encrusted pants and bead-strung blouses in a collection that was both opulent and extravagant.

The designer duo's collection included heavily embellished garments in colours of blue, pink, orange, black and nude. Sheer nets, crepes, satin, chiffons and georgettes gave the garments a dressy feel even as the silhouettes clung to the body.

The embroidery was the high point of the collection. Intricate sequinned flowers were enhanced with crystal and huge beads of semi precious stones.

Trousers were the mainstay. There were plenty of options in blouses -- cowl necks, asymmetric tank tops, shirts, corsets and jackets.

Models also walked the ramp in dresses in floral prints, ponchos with leather fringes and ruffled skirts.

The elaborate and indulgent collection was visually appealing as it attempted to marry Indian embroidery to Western wear.

This was one of the few collections at LIFW that was not truly prêt; most of the outfits were expensive because of the intricate embroidery involved. The jewel-encrusted pants have been priced at around Rs 25,000 while the rest of the collection is priced between Rs 3,000 and Rs 35,000.
Click on the image below for a bigger picture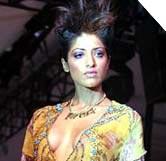 Photograph: Jewella C Miranda
Editorial support: Imran Shaikh