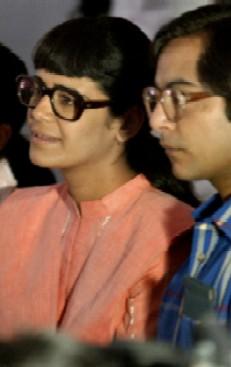 She is the moving force behind a fashion house, Gulmohur. How then could Jasmeet Walia aka Jassi, of the popular television serial, Jassi Jaisi Koi Nahi, give the Lakme India Fashion Week a miss?
The talented youngster was spotted dressed in her trademark salwar-kameez at the Monisha Jaising show. She was accompanied by Nandan Verma aka Nandu, her best friend in the serial.
Even here, Mona Singh, who plays Jassi, refused to step into the limelight – preferring to let her television character do all the talking. Since she signed on to play Jassi, Mona has not made a single public appearance, or given interviews, as herself.
Mona has dabbled in modelling and has commercials like Asian Paints, Bajaj Spirit, Clinic Shampoo and Breeze to her credit. She is said to have walked the ramp for designers like Rohit Bajaj and J J Valaya. She has apparently also participated in the Miss India contest.
But Mona is, for now, more than happy to remain Jassi.
'Sometimes,' she said in an interview with a national newspaper, 'I pinch myself. Is all this really happening to me? The character is so real, everyone has met a Jassi. People find it easy to relate with Jassi.'
She added that she found it easy to remain in character. 'My character and I are so alike [that] I don't have to make too much of an effort to be Jassi.'
In another interview to a website, she expressed her views on fashion. 'The truth is that today's middle-class girls neither like nor can afford fashion. They dress up for the sake of other people. They do not live their life on their own terms. Nobody should lose their individuality. Our show [Jassi Jaisi Koi Nahi] aims to help the girls realise that it is important to live your life on your terms.'
Photograph: Prakash Singh/AFP/Getty Images
Editorial support: Imran Shaikh