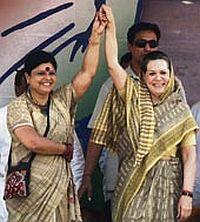 The statements of senior Congress leader Priya Ranjan Dasmunshi's wife Deepa, slamming the Trinamool Congress, have not gone down well with the Mamata Banerjee-led party.

An upset Mamata has convened a meeting of the party leadership at 4 pm on Monday to look into Deepa's comments regarding the alliance.

Deepa had on Sunday said that though the Trinamool was part of the United Progressive Alliance government, yet it issued statements against Prime Minister Manmohan Singh and government policies. Also, she charged that Mamata put no photos of either Dr Singh or Congress chief Sonia Gandhi when she inaugurated projects in West Bengal.

She added that the Congress should not have a tie-up in which there

is no faith or confidence and not give the Trinamool seats where the Congress is strong or has a sitting legislator.

Sources said that the TMC may reconsider its decision to tie-up with the Congress for the forthcoming West Bengal elections.

The party leaders have expressed hope of a comprehensive victory in the state elections without the Congress. Some of the leaders say that they are not the junior ally in West Bengal like in the UPA and that they are capable of going it alone and sweeping the polls.

The leaders felt that Deepa's comments were unwarranted and wonder if her statements were her own or whether it had the sanction of the leadership.

Meanwhile, Congress leaders at the plenary are reviewing whether such statements are warranted ahead of the crucial assembly elections.