As two recently declassified Intelligence Bureau reveal that the Jawaharlal Nehru government had spied on the family of Subhas Chandra Bose for nearly two decades, one of India's political mysteries takes centrestage.
Rediff.com reproduces this 2006 report in which Sumit Bhattacharya reported that a website claims that Netaji, in fact, did not die in an air crash, as was being believed, and that Netaji was traced to Russia.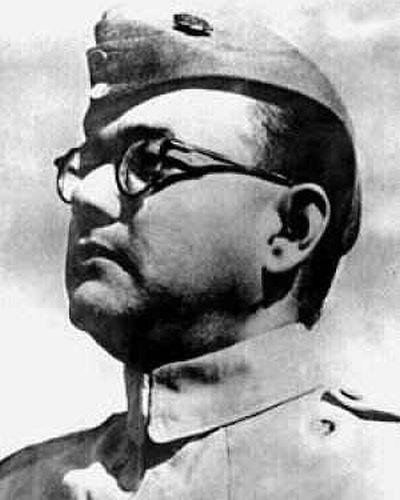 One of India's longest-running political controversies -- and one of 20th century history's 'mysteries' -- is about to return to centrestage.
Netaji Subhas Chandra Bose, who is believed to have died in a plane crash in Taiwan on August 18, 1945, actually escaped to Russia and was the victim of 'India's biggest cover-up,' says www.missionnetaji.org
If the web site's claims turn out to be true, it will mean rewriting contemporary Indian and world history.
Netaji, one of India's greatest heroes, rebelled against Mahatma Gandhi's Indian National Congress, raised the Indian National Army with Japanese help to overthrow colonial British rule in India, and is believed to have died in a freak crash in Taihoku airfield (Taipei in modern-day Taiwan) when the Japanese were evacuating Rangoon in the dog days of World War II.
Netaji's ashes are said to be preserved in Tokyo's Renkoji temple.
Missionnetaji.org -- run by journalist Anuj Dhar, marketing professional Sayantan, businessman Vinay Yadav, designer Arijit Das Choudhury and non-resident Indian Chandrachur Ghose -- says there was no air crash in Taiwan on that day in 1945.
It alleges that the two commissions set up by the Government of India to probe Netaji's death -- the 1956 Shah Nawaz Committee and the 1970 G D Khosla Commission -- were not earnest in their intent, ignored crucial circumstantial evidence, and didn't even speak to the Taiwan government.
The third probe -- the Justice M K Mukherjee Commission which was formed in 1999 in response to a public interest litigation -- has submitted its report to the government. The report is expected to be tabled in the ongoing session of Parliament.
Missionnetaji's team -- led by Hindustan Times journalist Dhar, who was part of the newspaper's investigations that claimed Netaji lived till 1985 as a hermit in Uttar Pradesh -- are confident the Mukherjee Commission report will explode the crash story.
They allege the Government of India over the years was part of a conspiracy to keep Netaji dead.
They say successive Congress governments have destroyed top secret files about Netaji.
They say the United Progressive Alliance government was hostile to the Mukherjee Commission.
The say the Mukherjee Commission was not given access to key Russian documents.
Incidentally, last year, Justice Mukherjee had confirmed to the media that the Taiwan government had denied any such crash on that day in 1945.
The web site's team believes that the case of Bhagwanji, a hermit who passed away in Faizabad in Uttar Pradesh in 1985, needs to be probed. And that the Mukherjee Commission report is "probably going to say" the UP hermit story is not mere hogwash.
"What I believe doesn't matter," says Dhar. "What matters is evidence. We want to prove that there was no air crash. That Netaji escaped to Russia. The rest will automatically follow."
Destination Russia?
The web site's investigations begin with what it claims to be photocopies of intelligence reports doubting the crash story.
Among the documents the site sports is what is a 1945 report by P E S Finney, a deputy director at India's pre-independence Intelligence Bureau, which says Netaji wanted to go to Russia -- through Manchuria -- and not Tokyo as believed.
As yet, the Finney report is classified by the Indian government.
The web site says the truth is out there in Russian records.
One of the key deponents before the Mukherjee Commission was Dr Purabi Roy, an international relations scholar specialising in India-Soviet ties from Kolkata's JadavpurUniversity.
She accompanied the Mukherjee Commission to Russia. She told rediff.com she was convinced "because of a number of reasons" that Netaji had escaped to Russia.
Among the number of reasons, she said, was the fact that one of her friends had told her that a Warsaw Pact General had found a GRU (Russian war files) archival document discussing in October 1946 "what was to be done with a certain Chandra Bose".
Roy wrote an article for the Pioneer on January 22 this year, in which she said, '[the Russian General Alexander] Kulesnikov went on to write an article in Patriot magazine that he had seen a file that referred to a meeting between Stalin, Molotov and Vichensky, in which the subject of "Chandra Bose" was discussed.

'Unfortunately, when Kulesnikov was summoned before the Mukherjee Commission, he ducked. The Russian government curtly told New Delhi that Kulesnikov was "untraceable" even though it is well known that he is now a diplomat posted in Turkey.'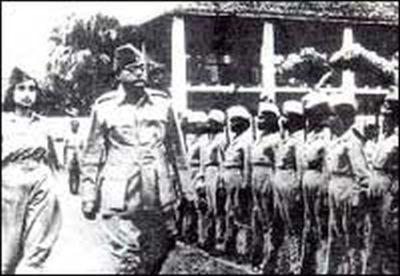 'What are the Russians trying to hide?'
Roy told Rediff.com, "When I was in Moscow, I had the chance to meet the KGB director. And they were talking of a political murder [of Netaji]. But certainly it was done after Stalin's death."
"We demand that Prime Minister Manmohan Singh write to Russian President (Vladimir) Putin requesting a definite answer to whether Netaji was in Stalin's Russia," says Dhar.
"It will not happen if a ministry of external affairs clerk writes to the Russian government. Like the case of Sarabjit Singh when the PM wrote to Pakistan President Pervez Musharraf after the media highlighted his case, the government will only take action when there is enough public pressure," he adds.
The web site claims American intelligence sleuths tracked Netaji till 1964.
The only witness
Lieutenant Colonel Habibur Rahman Khan, Netaji's trusted aide, was in the aircraft that crashed. He was in the hospital where Netaji is supposed to have died.
Lt Col Rahman Khan was interrogated several times by the British. He stuck to his story that Netaji died in a hospital after suffering major burns in the crash.
Dhar and team say Lt Col Rahman Khan was following Netaji's orders and was under an oath of secrecy.
To support the argument that Netaji's key man took his secret to his grave, Missionnetaji says, 'Sometime in 1946, Rahman told his friend and Netaji's Confidential Secretary Major E Bhaskaran that it was "a word of honour I have given to Netaji; don't question me further". Bhaskaran rued that little before his death in Pakistan in 1990, Rahman had wanted to reach out to him.'
The web site also quotes Sarat Chandra Bose, Netaji's elder brother, as saying he believed that Rahman 'had orders from his chief' to propagate the death-by-crash story.
Mammoth cover-up?
The web site claims 'it has been established' that top secret government files including 'the master file in the PMO over his [Netaji's] death. The "contemporary official documentary records" on the basis of which Prime Minister Morarji Desai had rejected the findings of the Shah Nawaz and G D Khosla panels vanished without a trace.'
"All commissions on Netaji's death were formed when the government was forced to," points out Dhar. And the web site blames media and public apathy for helping the government cover-up.
"De-classify all documents related to Netaji," demands Dhar.
Missionnetaji has on display what it says is a 'a secret note' stating that 'the ashes and other remains of Bose were received by External Affairs Minister [Nehru himself] in 1954.'
'Pray, then what is lying in Renkoji? And why weren't the people informed about this earlier?' the web site asks.
Who was the hermit?
Dhar says that B Lal, a top handwriting expert, confirmed handwritings of Bhagwanji from Uttar Pradesh -- a six-foot tall man who was reportedly fluent in German, Sanskrit and Bengali -- matched Netaji's.
Two other government handwriting experts studied the jottings and concluded they did not match Netaji's.
Dhar and team allege it was part of the cover-up.
They say Pabitra Mohan Roy -- Netaji's INA intelligence chief -- and Leela Roy -- a long-time associate of Netaji --met the hermit in UP.
And that Pabitra Mohan would visit the hermit every year on January 23 -- Netaji's birthday.
Pabitra Mohan Roy is no more, but the Hindustan Times reported that before his death, he had said, 'If I open my mouth, the country will be afire.'
"There is also a theory that Netaji was killed in Russia. The Mukherjee Commission is our last chance of knowing the truth, our best chance," says Dhar, whose partners in crusade confidently rattle off stories that would make your hair stand. About Netaji's 'involvement' in key events of 20th century, including the Vietnam War.
But they admit that these are in the realm of hypothesis. They admit that many questions remain unanswered, such as why the hermit, if he was Netaji, did not come out.
For starters, the Dhar and team want a national uproar. They want it to be proved beyond doubt that Netaji did not die in the crash on August 18, 1945.
The inevitable consequential questions will lead to the truth, they are confident.
"And there will be muck on everybody's face," warns Dhar.
Based on the clues Dhar and team provided, Zee News aired a documentary called Bose Ki Akhree Udaan (Bose's last flight) on March 17.