In a crime riddled with questions, she is the leading mystery.
This is the face of the Muslim mother-turned-killer who along with her husband murdered 14 in San Bernardino in what the Federal Bureau of Investigation is now calling an 'act of terrorism'.
Here's what we know so far about her.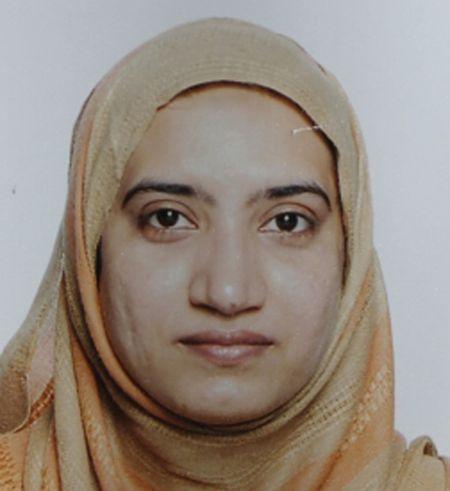 Tashfeen Malik is pictured in this undated handout photo provided by the FBI. She died in a shootout with police hours after Wednesday's attack on a holiday party at the Inland Regional Center social services agency in San Bernardino. Photograph: FBI/Handout via Reuters he FBI
1.
Tashfeen Malik was a devout Pakistan-born Muslim. She spoke broken English, wore a veil in public, avoided her neighbours and refused to drive, even after giving birth to her first child in May.
2.
Pakistani intelligence officials said that Malik moved as a young child with her family to Saudi Arabia 25 years ago. The two officials said the family is originally from the Pakistani town of Karor Lal Esan, about 200 miles southwest of the capital of Islamabad in Punjab province and moved to Saudi Arabia for Tashfeen Malik's father's (Gulzar Malik) work.

Malik likely then moved back and forth several times between Pakistan and Saudi Arabia.
3.
She and Farook met on a marriage website in 2013, got married and came together to the US in July 2014. The couple had a six-month old daughter.
4.
A US law enforcement official said that Malik, had under a Facebook alias pledged allegiance to the Islamic State group and its leader al-Baghdadi.

A Facebook official said Malik praised Islamic State in a post at 11 am on Wednesday, around the time the couple stormed the InlandRegionalCenter where staff were enjoying a holiday party and opened fire. The profile was quickly removed from public view and its contents reported to law enforcement.
5.
Neither Farook nor his wife had gotten into trouble with the law, according to police. Neither was on any list of potentially radicalized people
6.
IFarook was often made fun of by his co-workers for his beard, his family's lawyers claimed Friday. "He was a very isolated, introverted individual, with really no friends that we could identify" in the San Bernardino County Health Department, where he had worked for five years, the lawyers said.