Chinese soldiers transgressed into Indian territory twice this month in the Barahoti sector of Uttarakhand but the incidents were downplayed by Indian officials on Monday, saying these should not be given "undue importance".
Around 15-20 personnel of China's People's Liberation Army came 800 metres inside Indian territory in Chamoli district on the morning of July 25, officials said.
The incident took place just a day before National Security Adviser Ajit Doval left for Beijing to attend a meeting of NSAs of BRICS. It also comes amid the ongoing standoff between the armies of the two countries in Dokalam at the India-China-Bhutan tri-junction.
The first transgression took place on July 15 and the other on July 25. In both instances Chinese soldiers numbering about 15-20 came into Indian territory, stayed there for a while and left, Indo-Tibetan Border Police sources said.
On July 25, the PLA troops entered into the Indian territory and even threatened the shepherds grazing cattle in the Barahoti area during their two hours stay, officials in the know said on the condition of anonymity. The Chinese troops left after the Indian side protested.
However, official sources said incidents of similar nature have happened in the past but are normally sorted out locally and should not be given undue importance.
They said transgressions occur due to differing perceptions of Line of Actual Control by the two sides.
"Soldiers of the Chinese army come into our area and leave after staying there for a while. It has been happening for decades. Though we can't call it routine it is not so unusual movement either," said a senior ITBP official on the condition of anonymity.
In July last year also, Chinese troops had transgressed into Chamoli district of Uttarakhand.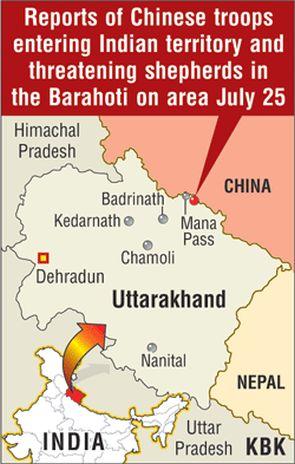 Barahoti, an 80 sq km sloping pasture about 140 km from the Uttarakhand capital Dehradun, is one of three border posts in what is known the 'middle sector', comprising Uttar Pradesh, Himachal Pradesh and Uttarakhand.
It is a "demilitarised zone" where Indo-Tibetan Border Police jawans are not allowed to take their weapons, officials said.
In 1958, India and China listed Barahoti as a disputed area where neither side would send their troops. In the 1962 war, the PLA did not enter the middle sector and focused on the western (Ladakh) and eastern (Arunachal Pradesh) sectors.
After the war, ITBP jawans would patrol the area with weapons in a non-combative manner -- with the barrel of the gun facing down.
During negotiations on resolving the border dispute, the Indian side unilaterally agreed in June 2000 that ITBP troops would not carry arms in three posts, Barahoti and Kauril and Shipki in Himachal Pradesh.
ITBP men go patrolling in civil dress and the Barahoti pasture sees Indian shepherds from border villages tending their sheep and people from Tibet bringing their yaks for grazing.