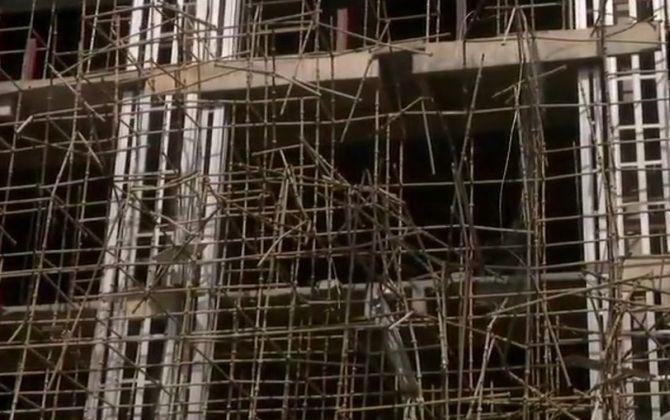 Four labourers were killed and five more severely injured when temporary iron fixtures around an under-construction multi-storey private building on the Noida-Greater Noida Expressway collapsed on Sunday, police said.
The incident occurred at private real estate firm BPTP's 18-storey 'Capital City' in Sector 94 when the shuttering (temporary fixtures built of iron) came crashing down in the morning, the police said.
A police official said prima facie, it appears that the shuttering was hit by a tractor-trolley carrying construction material, which led to the incident but the cause is yet to be ascertained.
"Nine people were injured when the shuttering of the building collapsed. Four of them have died, while five others have been hospitalised," Senior Superintendent of Police, Gautam Buddh Nagar, Ajay Pal Sharma said.
A first information report has been registered at the Sector 39 police station, under whose jurisdiction the building is located, police said.
The deceased have been identified as tractor-troller driver Naushad and workers Karan, Vijaypal and Ramvijay, they said.
The injured, Ajay, Shadaab, Mahesh, Nisaarul and Ashok, are undergoing treatment at local hospitals, they added.
The city administration has assured compensation to the families of the victims, pending probe into the matter, even as a police official told PTI that workers, who were fixing windows and tiles on the building on Sunday morning using the shuttering, allegedly did not have safety harness.
City Magistrate Shalender Mishra said it has been reported that a connecting pin on the shuttering was loose which caused the structure to collapse when the tractor hit it but exact details would be known after the probe.
"Police are probing the matter and after that, due compensation will be given to the families of the victims as per the Wages Act," he said.
"The labourers were wearing helmets but they were working without any safety harness," a police official said.
Meanwhile, real estate group BPTP said the work at the Noida site was being undertaken and supervised by M/s Ahulawalia Contractors (I) Ltd, and all the statutory compliances were also being done by them, including health and safety issues.
The project is managed by M/s Mott MacDonald, a multinational project management company, who have appointed a designated health and safety officer at site, the group said in a statement.
"As informed by Ahluwalia Contracts, the incident occurred when the tractor trolley carrying sand hit the shuttering material. As we understand, they are already in touch with the authorities concerned regarding the incident," Rohit Mohan, media in-charge for BPTP, said.