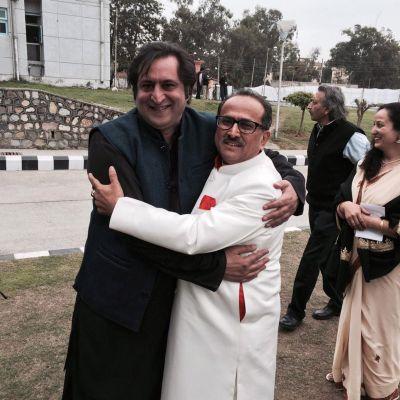 Sajjad Gani Lone, younger son of People's Conference leader Abdul Gani Lone who was assassinated in 2002 in Srinagar, has crossed yet another threshold with his swearing in as a minister in Peoples Democratic Party-Bharatiya Janata Party government since he broke ranks with separatists nearly a decade ago in Jammu and Kashmir.
That Lone's elevation is expected to have some bearings on separatist politics has become clear with Chief Minister Mufti Mohammed Sayeed on Sunday saying that he has "given an opening, an avenue for others (separatists) to follow".
Born on December 9, 1966, Sajjad is the younger son of Hurriyat leader Abdul Gani Lone who was assassinated on May 21, 2002, by militants in Eidgah ground of downtown Srinagar.
His father's killing was a turning point for Lone and though he continued in Hurriyat Conference, he was accused by hardline separatist leader Syed Ali Shah Geelani of fielding proxy candidates in the 2002 Assembly elections. This led to a vertical split in the separatist amalgam.
He parted ways with his brother Bilal Gani Lone in February 2004 to float his own faction of People's Conference founded by his father.
The healthy turnout in the 2008 Assembly elections, which were held immediately at the end of the Amarnath Land row agitation that left 60 people killed, brought a change of mind in Sajjad, who called on the separatists to review their strategy for being heard in Delhi.
He took the electoral plunge in April 2009 and contested as an independent candidate from Baramulla Lok Sabha seat.
"I will take the problems of Kashmiri people to the Indian parliament," Sajad had said but was defeated by the National Conference candidate Sharifuddin Shariq.
The 48-year-old, who married daughter of Jammu and Kashmir Liberation Front founder Amanullah Khan from Pakistan, spent the next five years to galvanise his party cadres.
He gave a miss to the 2014 Lok Sabha polls himself but fielded a candidate from the north Kashmir constituency who lost.
Sajjad was elected to the state assembly from Handwara assembly constituency in the elections held in 2014. He defeated sitting minister Chaudhary Mohammad Ramzan of National Conference and his one-time "proxy" Ghulam Mohiuddin Sofi, who contested on a PDP ticket.
Sajjad's Peoples Conference also managed to win the nearby Kupwara assembly segment as his party candidate Bashir Ahmad Dar defeated three-time National Conference MLA Mir Saifullah.
Lone's inclusion in the government from BJP quota has not come as a surprise as his meeting with Prime Minister Narendra Modi in November ahead of the Assembly polls had fuelled speculation of a tie-up.
"The PM is a great human being. I was pleasantly surprised with his down-to-earth personality, his vision about bringing in investments into the state," Lone had said.
Sajjad Lone's older brother Bilal is an executive member in the moderate faction of separatist Hurriyat Conference.
Sajjad did his schooling from the prestigious Burn Hall School in Srinagar. He completed his high school in 1980. He graduated from University of Wales, College of Cardiff, UK in 1989. Sajjad and his wife Asma have two sons -- Emad and Adnan .
Electoral politics is nothing new to Sajjad, who grew up watching his father Abdul Gani Lone take on stalwarts of Kashmir politics like NC founder Sheikh Mohammad Abdullah both inside and outside the assembly.
The Lone Senior was a member of the Legislative Assembly for four consecutive terms from 1967 to 1987, before he joined hands with several other separatist groups to form Hurriyat Conference in early 1990s.
A supporter of "the restoration of internal autonomy in Kashmir", Sajjad Lone is also the author and the propounder of the model of 'Achievable Nationhood', which talks about economically single boundary-less Jammu and Kashmir jointly managed by India and Pakistan.
Photograph: Umar Ganie/Rediff.com