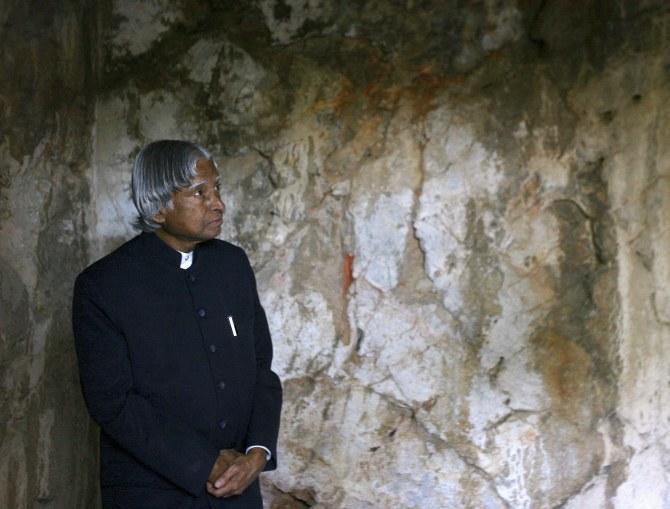 Former president A P J Abdul Kalam, the 'missile man' who came to be known as 'People's President' passed on Monday after he collapsed during a lecture at the IIM Shillong on Monday evening.
Kalam, who would have turned 84 in October, was confirmed dead more than two hours after he was wheeled into the ICU of Bethany hospital in a critical condition following the collapse at around 6.30 pm.
Considered the most popular President, Kalam became the 11th head of the state and occupied the post between 2002 and 2007 but lack of consensus denied a second term in office for a man who came from outside political spectrum.
Meghalaya Governor V Shanmughanathan, who rushed to the hospital on hearing the news of his admission, said Kalam died at 7.45 pm. Despite medical team best efforts, he could not be revived.
Chief Secretary P B O Warjiri told reporters outside the hospital that he had spoken to Union Home Secretary L C Goyal asking for necessary arrangements to be made for carrying Kalam's body from Guwahati to Delhi on Tuesday morning.
"The former President has been admitted to Bethany hospital in a critical condition," M Kharkrang, SP Khasi Hills said earlier.
Doctors from the army hospital and North Eastern Indira Gandhi Regional Institute of Health and Medical Sciences rushed to Bethany Hospital but their efforts proved to be of no avail.
A seven-day national mourning will be declared by the Centre, Union Home Secretary L C Goyal said. Both the houses of Parliament are likely to make obituary references and adjourn as a mark of respect to his memory.
Avul Pakir Jainulabdeen Abdul Kalam rose from humble origins to become the president in the most unexpected manner during the National Democratic Alliance government under Atal Bihari Vajpayee after an all party consensus minus the left parties that saw him through in an election which he won handsomely.
An aeronautics engineer from Madras Institute of Technology, Kalam was considered the brain of missile programme in India got and as Chief Scientific Adviser to Vajpayee was also instrumental in the Pokhran nuclear test in 1998.
As president, Kalam utilised any opportunity that came to him to address students, especially school children, to dream big so that they became achievers in life.
A bachelor, the former president was a veena player and was deeply interested in Carnatic music. He was vegetarian all his life.
President Pranab Mukherjee, Vice-President Hamid Ansari, Prime Minister Narendra Modi, Home Minister Rajnath Singh and leaders cutting across party lines condoled the demise of the former President.
Modi described him as 'marg darshak' while the home minister termed him as an inspiration to an entire generation.
Leader of opposition in Rajya Sabha Ghulam Nabi Azad said that Kalam was a darling of youths and students. Azad said Kalam was always happy to be among children and educational institutions. Even he breathed his last in the premises of an educational institution, he noted.
Former Finance Minister P Chidambaram said in recent history only a few people had endeared themselves to the young and old, to the poor and rich, to the educated and the unlettered and to the people belonging to different faiths and speaking different languages.