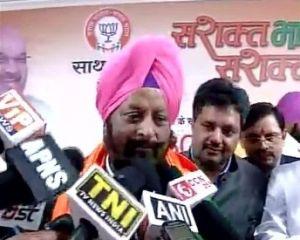 Former Delhi Assembly Speaker and Aam Aadmi Party MLA Maninder Singh Dhir, who had a public spat with AAP chief Arvind Kejriwal over praising Prime Minister Narendra Modi, has joined the Bharatiya Janata Party.
Dhir, who had successfully contested the last assembly elections from Jangpura constituency, said the country was "progressing" under the leadership of Modi.
Rohit Rajpal, a former captain of Indian Davis Cup team, also joined BJP.
"India is progressing well under the leadership of Prime Minister Modi who has given a development mantra," Dhir told reporters.
The former Speaker said BJP is not new to him and before joining AAP, he was in the saffron party and for him it was now like returning home.
Attacking Kejriwal for resigning as chief minister of Delhi, Dhir said "they (Kejriwal) got one chance to form a government but got emotional and resigned which they should not have done."
Asked why he was quitting Aam Aam Party, he said "I was upset with what Kejriwal and the party had worked for. Kejriwal hurt the emotions of the masses, which supported him, by resigning as CM."
"Kejriwal is today admitting that he had made a mistake but it cannot be forgotten. They (AAP) are now seeking another chance from the people but what is the guarantee they would not again run away from their responsibilities and leave people in the lurch?"
Asked if he has come back to BJP to contest the coming Assembly elections on its ticket, he said he has joined the saffron party without any precondition.
Asked if BJP would give a ticket to Dhir in elections, state party incharge Prabhat Jha said they would take a decision at an appropriate time.
Rajpal said "I am very happy to join BJP which has given me chance to serve the country again. I am inspired by the leadership of Prime Minister Narendra Modi."
Jha said "we welcome those who want to join BJP without any preconditions."