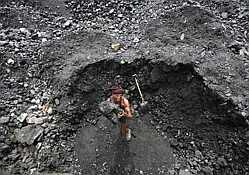 Members of the civil society including former chief election commissioner N Gopalaswami, ex-navy chief L Ramdas and former cabinet secretary T S R Subramanian on Thursday approached the Supreme Court seeking a court-monitored Special Investigation Team probe into the coal block allocation scam.
They have filed a joint public interest litigation along with other retired bureaucrats and NGO Common Cause pleading the apex court to quash the entire allocation of coal blocks to private companies made by the Centre from 1993 onwards.
"The involvement of senior ministers, public servants, different departments of Centre and state governments concerned, alleged corruption and bribery by beneficiary companies needs to be investigated. Considering the magnitude of investigation and possibility of involvement of high public offices, including the Prime Minister's Office, and the fact that the CBI functions under the same very government it is supposed to investigate, a court-monitored investigation by an SIT is required to ensure proper investigation in the matter," the petition said.
The petitioners alleged that allotment of coal blocks was non-transparent, unfair manner in violation of rules and procedures.
"That investigation of the CBI at the instance of CVC is partial and does not cover the full magnitude of the coal scam. The alleged conspiracy in blocking the policy of competitive bidding and the manner in which the screening committee functioned need to be investigated thoroughly, which involves senior ministers including the highest executive office of the country," the petition said.
The alleged irregularities in the coal block allocations has already in judicial scrutiny with the Supreme Court on September 14 directed the Centre to file its response saying that the government required to give explanation on the alleged irregularities.
The court had turned down the Centre's plea that it should not go into the issue as it is being looked into by a parliamentary committee.
"There is difference in exercise done by the public accounts committee. The Parliament and PAC can proceed with the issue on the basis of the CAG report. We don't want to encroach upon their exercise but the petition raises different things altogether. There are sufficient averments which require explanation from you," the court had said.