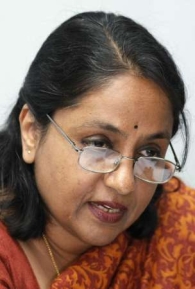 Foreign Secretary Sujatha Singh on Friday reviewed the security situation for the Indian consulate in Afghanistan's Herat which was attacked last week.
Singh flew to Herat in the morning and met Indian Ambassador to Afghanistan Amar Sinha and other senior officials to take stock of the situation during her brief visit which lasted a few hours.
The foreign secretary met the brave staff including the Indo Tibetan Border Police security personnel who repelled the attack on May 23 in which all the four terrorists were killed, officials said.
Herat is over 800 km from capital Kabul.
After the attack, security at the Indian embassy in Kabul and consulates in Jalalabad, Mazar-e-Sharif and Khandhar besides Herat has been beefed up and a high alert sounded to all Indian assets based across Afghanistan.
India is carrying out various development projects in Herat province including construction of Salma hydroelectric and irrigation dam project at the cost about $200 million.
Image: Foreign secretary Sujatha Singh