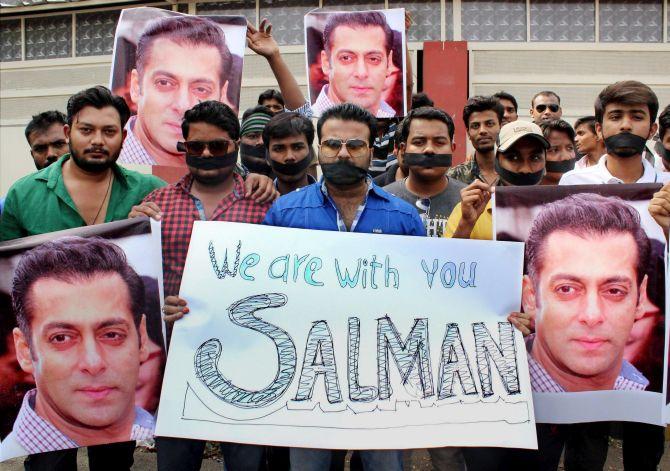 A fan of Salman Khan on Friday allegedly tried to commit suicide by consuming poison outside the Bombay high court, which was hearing the actor's bail plea in the 2002 hit-and-run case.
Gourango Kundu, an aspiring script writer and a resident of Bandra east in suburban Mumbai, said in a letter, which he had distributed that he was hoping that Salman would help him showcase his talent but if the actor does not get bail, it would shatter his dream. In his letter, he also calls Salman his 'bhagwan (God)'.
He said he wanted to become a Bollywood script writer but did not get any opportunity to showcase his talent. After that, he started sending his scripts to Salman hoping that the 49-year-old actor would give him a break in the industry, it said.
He was distraught because if Salman does not get bail, his dreams would remain unfulfilled and hence he allegedly consumed poison in the presence of police personnel.
The man was unconscious and was taken to hospital, police said.
On Friday, the high court was hearing a bail appeal in the Salman case after a session's court had found him guilty and sentenced him to 5 years in prison for culpable homicide not amounting to murder for the 2002 hit-and-run case.
Image: Salman fans gather outside the actor's residence carrying his posters ahead of his bail plea. Photograph: PTI