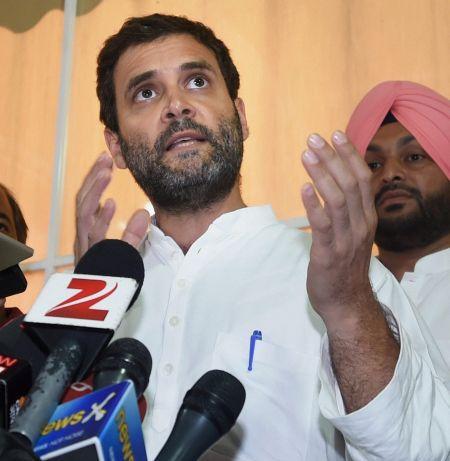 Rejecting the government's defence over the Lalit Modi issue, Rahul Gandhi on Thursday launched a scathing attack on External Affairs Minister Sushma Swaraj and Prime Minister Narendra Modi, whom he dared to bring the former IPL commissioner back to India for cleansing cricket.
Countering Swaraj's allegations against his father Rajiv Gandhi, the Congress Vice President said that the late prime minister's name been cleared by the judicial system of the country even as he alleged that she and Finance Minister Arun Jaitley had defended "black money network" in Parliament on Wednesday.
He further charged that Lalit Modi was a key link between the political system and black money.
The Congress leader also asserted that his party would keep up pressure on the issue and took a jibe at Narendra Modi saying that he "gets scared".
Leading a Congress protest against the government inside Parliament complex, which was also joined by members from Left and Trinamool Congress, Gandhi rubbished Swaraj's counter offensive in Lok Sabha on Wednesday, asking why was she "hiding" whatever she did for Lalit Modi if it was truly for a humanitarian cause as has been claimed by her.
Taking a dig over the Modi surname common to the Prime Minister and the former IPL chairman, Gandhi said he was telling Narendra Modi to catch Lalit Modi and bring him back to India.
"I tell this to Modiji that he has an opportunity. Bring back Lalit Modi and clean up cricket. India is giving you (prime minister) a chance. You still have the credibility," he said.
Gandhi also remarked, "Many people think Modiji has guts, some people say he doesn't. If you don't bring back Lalit Modi, if you continue to allow these people to defend Lalit Modi the way Sushmaji did... We have understood that this Prime Minister gets scared.
"We will put so much pressure that Lalit Modi is brought back and whatever mess that has emerged in cricket is cleaned up."
The Congress Vice President also referred to what he described as the climbdown of the government on the land Bill issue.
Responding to Swaraj's charge that Congress had helped Bofors accused Ottavio Quattrocchi and Bhopal gas leak accused Warren Anderson to flee India, Gandhi said the judicial system of India had cleared his father 30 years back, but the rival party still keeps up raking those issues.
"It makes no difference to me. I am here to defend the country from the RSS and (Narendra) Modi," he said.
Pressed further over Swaraj's claims, Gandhi told media persons that some television channels were issued notice by the government recently. "When your views clash with their views, your mikes will be shut," he said.
On the Lalit Modi issue, Gandhi said, "I had said yesterday (on Wednesday) said that the focus is on Sushmaji. Now, Jaitleyji too has defended Lalit Modi. The issue is very simple. What we call IPL cricket, there are two networks in it. One network is what is being seen by the youth of India.
"Second is the hidden network of Lalit Modi, which is operated behind closed doors, the network of black money, corruption and politicians. Lalit Modi is the link between the political system and black money, the biggest link."
He further alleged that Swaraj, Jaitley and Rajasthan Chief Minister Vasundhara Raje were protecting that network.
"Sushmaji is trapped in it since she has a relation with Lalit Modi. Now, she is trying to save herself and the network."
"I am telling this to Modiji... not Lalit Modi, but Narendra Modiji. It is a weird case that the names are similar. I am saying this to Prime Minister Modiji that the youth is slowly understanding the network. They are seeing that there is a network of cricket and behind it is dirt," the Congress Vice President said.
Intervening in a debate in Lok Sabha on Wednesday, Swaraj had torn into Congress, saying it had helped Bofors accused Ottavio Quattrocchi and Bhopal gas leak accused Warren Anderson flee India and roped in Rajiv Gandhi in this regard.
Responding to Gandhi's charge that she had received money for helping Lalit Modi, Swaraj told him to ask his "mamma" as to "how much money had been taken from Quattrocchi" and "why did 'daddy' (Rajiv Gandhi) secure the release of the killer of 15,000 people (in Bhopal gas leak)," an apparent reference to Anderson.
It is clear in the Lalit Modi controvesy that a financial transaction took place, the Congress Vice President insisted.
"She (Swaraj) spoke at length, gave long statements, but did not respond to our question. It was a simple question. I asked, 'How much money did you get? And why did you do that charity and humanitarian work? The whole world does charity, but it does so in the open.
"Why didn't you tell this to your ministry. And whatever charity work you did, why did you not follow the procedure. Why did you not tell the country that you helped Lalit Modi?" Gandhi questioned.
The Congress Vice President said he had earlier thought that Narendra Modi had some guts, but added that today, he "feel(s) this man does not have the guts".
"The Prime Minister promised many things. He had promised Rs 15 lakh. He had promised 'na khaoonga, na khane doonga'. But the sad part is that he could not come inside (the House). I thought... we lost... I thought this man has some guts. But today I am feeling that this man does not have the guts.
"We were stuck over the land Bill issue. I thought it would be a tough fight. We have 40 (MPs), and the other side, more than 200 (MPs). Their crony capital friends are behind them. And our 44 and members from different parties blocked it (certain amendments to land Bill)," Gandhi said.
"When the battle was waged and pressure increased, (PM) Modi-ji turned around and started running. It's a reality, he fled," Gandhi said as he claimed that while the Prime Minister had brought the land Ordinance boldly the first two times, he had done so the third time with hesitation before finally giving it up.
Gandhi further claimed that Swaraj had yesterday held his hand as she asked him why he was after her and also took potshots at Narendra Modi, saying it was "sad" that he did not come to the House in the Monsoon session.
He also took a dig at the government over the Vyapam scam as he accused BJP and RSS of joining hands to "damage" the future of thousands of students.
Meanwhile, the leader of Congress in Lok Sabha, Mallikarjun Kharge, too, hit out at the Prime Minister, saying he had not attended the House for even a single day during the Monsoon session.
"(PM) Modi-ji did not come to the House ever since the session began despite being the Leader of the House and the Prime Minister. That shows what respect he has for democracy. This is the height of arrogance. He is giving very scant respect to Parliament. Congress will not tolerate it," he said.
Kharge said that while Congress expected that the government would discharge its responsibility properly, "it is unfortunate that it did not take any interest in running the House".
Further, slamming the government over the Lalit Modi row, he said, "(PM) Modi is ready to protect the ministers, but while the minister (Swaraj) is replying, the captain of the team is not answering."
Attacking Jaitley over his defence of the government in the Lalit Modi issue, Kharge alleged that the BJP leader was defending the former IPL chairman "as a lawyer defends some criminal after taking money from him".
Image: Congress Vice President Rahul Gandhi. Photograph: PTI