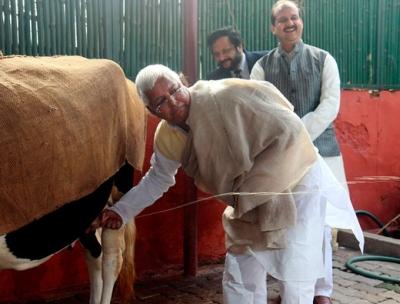 The former Bihar chief minister has seven criminal cases against him, most of them related to cheating and forgery
His assets saw an upward swing from Rs 87 lakh in 2004 to Rs 3 crore in 2009. He owns 60 cows and 36 calves

Rashrtriya Janata Dal chief Lalu Prasad Yadav has been found guilty in the multi-crore fodder scam. The conviction means the former Bihar chief minister faces disqualification as member of Parliament, as per the Supreme Court judgment.

Seven cases have been slapped against Lalu since 2004, but this is the first time he faces jail. As per his assets declaration, Lalu owns 60 cows and 36 calves.
Among the criminal cases, one relates to forgery and he has been booked under Section 468 of the Indian Penal Code. Section 468 deals with forgery for the purpose of cheating states and if found guilty, Lalu faces imprisonment up to seven years. He is also liable to a fine.
He has also been booked under Section 471 of the IPC. This section deals with an offence in which a forged document has been used as a genuine one.
A case under Section 420 has been registered against Lalu in relation to cheating and dishonestly inducing delivery of property. If found guilty, he can be sentenced to seven-years imprisonment and a fine.
The RJD chief has also been charged under Section 418 of the IPC, which relates to cheating with the knowledge that wrongful loss may ensue to the person whose interest the offender is bound to protect. The punishment under this is section is three years in prison and a fine or both.
Lalu faces a charge of forgery of valuable security under Section 467 of the IPC. Under this section, if convicted, the accused can be imprisoned to a term of ten years and also a fine. He has also been charged under Section 409, which relates to criminal breach of trust by a public servant. This section attracts imprisonment of ten years.
Under Section 477 (A), he has been booked for falsification of accounts. Under this section, the guilty faces imprisonment of seven years. He has also been booked for possessing a counterfeit seal with an intent to commit forgery. Section 473 attracts seven years imprisonment, a fine or both.
Lalu has been charged with for criminal conspiracy under Section 120 (B), which can attract imprisonment of two years and upwards.
Under Section 201 of the IPC, Lalu has been booked for causing disappearance of evidence, or giving false information to screen the offender. This attracts imprisonment of up to seven years. A charge under Section 511 deals with attempting to commit offences, which are punishable with life.
Assets

Lalu's assets have seen a major upward swing since the 2004 elections. In the Lok Sabha elections of 2004, he had declared assets to the tune of Rs 87 lakh. In the 2009 elections, his assets were worth Rs 3 crore.

Lalu has cash worth Rs 3.75 lakh, his deposits in financial institutions are to the tune of Rs 37 lakh and his bonds and debentures worth Rs 70,000. His NSS and postal savings add up to Rs 4 lakh, while his insurance policy is worth Rs 2 lakh. He owns a Maruti 800 and a military disposal jeep, which are worth Rs 25,000. He has jewels worth Rs 6 lakh and miscellaneous items to the tune of Rs 13 lakh. Lalu has also declared that he has 60 cows and 36 calves.

Lalu has agriculture land to the tune of Rs 1 crore and non-agriculture land worth Rs 23 lakh. He has also declared buildings worth Rs 1 crore.

Image: Lalu Prasad Yadav milks a cow inside his residence in New Delhi in this February 2009 picture

Photograph: Reuters