Experts say poor city planning and inefficient administration turned an unusually high rainfall into a disaster, reports T E Narasimhan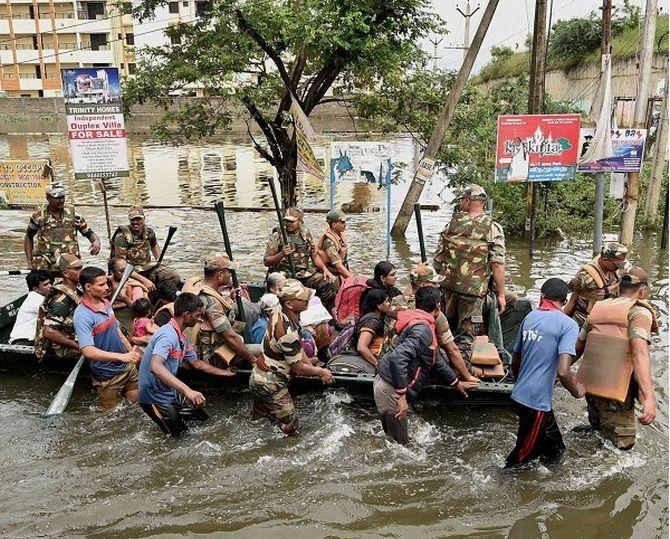 Troops from the Indian Army and the Indian Air Force were called in to help rescue stranded people as rains submerged parts of Chennai. Photograph: PTI
Chennai has seen nearly four floods in the last 30 years, yet the city found itself ill-prepared for the recent rains that started on November 8. The heavy downpour that began two days before Diwali inundated large parts of Tamil Nadu, particularly the coastal districts of Cuddalore, Kancheepuram, Chennai and Tiruvallur.

As many as 169 lives have been lost and more than 400,000 people have taken shelter in relief camps. In the coastal areas, standing crops have been ruined. Schools have been shut for 17 days now.
In Chennai, roads and underpasses saw boats rescuing stranded citizens, a sight reminiscent of the days when the city was a tiny fishing village named Madraspattinam. (Till a few decades ago, there used to be regular boat rides on the Adyar.)
Rumours of bridges being swept away in the floods, circulated widely on the social media, adding to the panic.

While there are no official estimates, experts say industrial production worth over Rs 1,000 crore has been lost. Renault-Nissan, BMW, Daimler India Commercial Vehicles, Yamaha, Ford, Ashok Leyland and Royal Enfield were forced to shut down their factories. Isuzu had to suspend construction at its upcoming plant in neighbouring Andhra Pradesh because of the downpour.

The IT companies, which together employ nearly 400,000 people in Chennai, declared holiday for two days, including Cognizant, Wipro, Verizon and Tech Mahindra. These companies managed to cope with the rains by asking their employees to work from home. Some employees were placed in nearby hotels and some were asked to work from other centres in the city.
The blame game
Of course, the rains were unprecedented in their intensity. During the first 24 hours, Chennai received 246.5 mm of rainfall, which broke the recent record of 142.4 mm in November 2005 (the highest rainfall during the north-east monsoon was in November 1976: 452.4 mm).

But a part of the blame for the floods must also be shared with the city's administrators as Chennai's infrastructure has failed to keep pace with its growth. The rains exposed Chennai's lack of preparedness for natural disasters.

Haphazard real estate development paved the way for the disaster that unfolded last week, experts say. Water bodies, including wetlands, have been encroached upon or reclaimed to build high-rises, which has affected the flow of rainwater. In Velacherry and Taramani, two of the worst affected areas, whenever it rains without intermission for more than two days, people have to take to boats.

Velacherry draws its name from the large number of lakes, ari in Tamil. Today, high-rise buildings have taken over these lakes. The city's largest mall, Phoenix, sits on what used to be a lake-bed in Velacherry.
The story is no different in the rest of the city, which lacks natural drainage and water storage systems. A report quoting a study from the National Institute of Disaster Management stated that about 650 water bodies, including big lakes, ponds and storage tanks, have been destroyed in Chennai and their current number stands at around 27. It added that the city has only 855 km of storm drains against 2,847 km of urban roads. The 400-kilometre long BuckinghamCanal, built by the British for navigation, is another example of how a waterway turned into a drain. Experts say failure to de-silt it is another reason for the floods, adding that it is high time those drains were revived.
Whenever there is heavy rain, it is the natural lakes and inter-linked drainage systems that help replenish groundwater, hold back some water and release the excess into the ocean. Over the past 30 years, nature has given enough warnings, but the administration has chosen to ignore it.

According to Surjit Kumar Chaudhary, a former commissioner of the Chennai corporation, the network of storm water drains in the city is patchy and many of the drains are choked. The annual exercise of cleaning them before the pre-monsoon rains is also limited to only a few drains. He say the topography of Chennai is such that water clogged in the streets flows to the river at a slow pace over two days.

A lesson learnt

The current Chennai Corporation commissioner, Vikram Kapur, says this year's rainfall will help the city prepare a better design for rain management in the future. "It's wrong to say that corporation was unprepared. We started preparing for the rain six months ago. But no one expected this much rain to hit the city, not even the Met department," says he.

The Corporation will work with Anna University, Indian Institute of Technology Madras and Institute of Remote Sensing to create better models to manage rain, Kapur adds.

During a visit to her Dr Radhakrishnan Nagar constituency in Chennai to review the situation after the rains, Tamil Nadu Chief Minister J Jayalalithaa said: "Rains that should have happened over three months lashed within a few days. Any number of preventive measures will not suffice as stagnation and resulting damage are unavoidable."

She also said in a statement that "when such damages occur, it is the hallmark of a good government to ensure rehabilitation measures are undertaken and in that sense relief work is on in affected districts on a war footing". Her government announced a Rs 500-crore relief fund.

Chennai's problems are rather ironical. During summer, it doesn't get enough rain, and when it rains, the city cannot handle it. Tamil Nadu is expected to see more rains in the season. The state government has said that it would require Rs 8,481 crore to carry out immediate rescue and relief towards temporary and permanent restoration of infrastructure.

The only bright spot in the whole episode is that almost every dam and water reservoir in the state is overflowing. Every summer, Tamil Nadu begs and fights with its neighbours for more water. Next summer could be different.
REDIFF RECOMMENDS: