'The Chennai floods in particular clearly show there is a nexus between corruption, disaster, destruction and death.'
'Urban development in India is the source of all corruption.'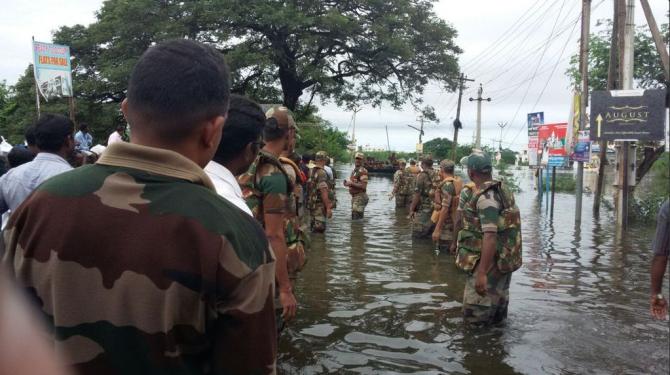 Image: Army soldiers step up to the rescue in Chennai as the city went under rain water. Photograph: Ministry of Defence spokesperson on Twitter.
M G Devasahayam, a former Indian Administrative Service officer who has worked in urban planning, energy, utility management (public transport, electricity), accountability and governance in public services, has been critical of the way cities are being developed in India by forgetting rules, regulations and environment.
In this interview to Shobha Warrier/Rediff.com, Devasahayam, who served in the Indian Army before joining the IAS, believes the Tamil Nadu government is responsible for the unprecedented floods that crippled Chennai last week.
He was also quite critical of the new capital city Andhra Pradesh Chief Minister Chandrababu Naidu is building on the banks of the Krishna. In fact, Devasayam, image, below, had led a fact-finding team from the National Alliance of People's Movements, which he had started, to the 29 villages in the state's new proposed capital region.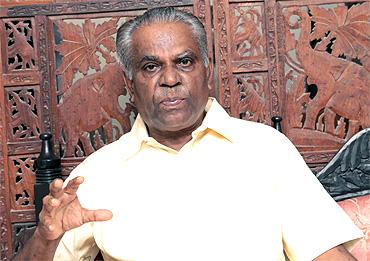 As an urban administrator, what is your reaction seeing Chennai under water?
Chennai is becoming worse every year. Rain will be there during the monsoon though it was less in the last two years, and rain cannot be considered as a disaster. This time also, except for a couple of days, I would not say we had abnormal rain. There was no cyclone this time. But almost every part of the city and the suburbs were under water.
The reason why it was like this is simple. The way the government is run in Tamil Nadu, by both the DMK (Dravida Munnetra Kazhagam and the AIADMK (All India Anna DMK), is with no concern for rules, regulations and the expert master plan of the city.
Everything is centralised around one person. It is worse in the case of the AIADMK; there is some amount of democracy in the DMK.
We have a master plan, a legal document for the city that was prepared, discussed, debated and enacted in 2008. A part of the master plan has development control rules, but they don't even look at the rules.
In 2009, we did a revised master plan. I was part of it with an international consulting group. We had very clearly identified a development strategy and divided the Chennai metropolitan area into three large zones based on the ecologically sensitive areas. We had told them that there should not be any construction in those areas except low rise, low density development.
This master plan has been literally thrown into the waste paper basket and they have built multi-storey buildings in those areas, as multi-storey buildings are cash cows.
You mean, it is corruption that has resulted in this situation and not bad planning.
Planning is there, but they don't look at the plans; they only look at hard currency. Here is a standing example that stares at your face: Corruption. Corruption leads to disaster, destruction and death.
The Tamil Nadu floods in general and the Chennai floods in particular clearly show there is a nexus between corruption, disaster, destruction and death.
The phrase 'preparing for floods' does not arise as you have violated all rules while planning. So, what's there to prepare? I would say, the government has created the floods.
Chennai is a water-starved city, but water that can serve the entire city for one whole year has gone down the drain. So where is the management of land? What you see is mismanagement of land.
The CAG (Comptroller and Auditor General) reports of 2013 and 2114 criticise the corporation's inability to coordinate with other departments and complete the storm water drain project...
What kind of coordination are they talking about?
In a city like Chennai, a full city, the government should be fully responsible for everything. That was the purpose of the 74th Amendment of 1992, which says that all urban local bodies, village panchayats and zilla parishads have all the roles except electricity and police. But the city government has both electricity and police under them.
Today, land is under the control of the public works department, water is under Metro Water, and sewerage, police, fire brigade have their own boards. What is the role of the corporation then?
The CAG report says they did not coordinate and complete the storm water drains. These are petty issues, but the core issue is the governance of the city. Who has got control?
Nobody. And nobody is accountable too. There is no institutional or governance system.
Also, can man-made storm water drains make up for the natural drainage system which has been blocked by people?
What is the first principle of corruption? Create chaos. A clear, orderly, city set up with clear demarcation of responsibilities, institutional capacity building... all are against corruption. You can't make money.
People say that what happened in Chennai can happen to any other city in India. Do you agree?
If there is a semblance of management, it will not happen. I am told, after what happened in Mumbai a few years ago, the city administration has improved tremendously and this would not happen there. On the other hand, things have become worse in Chennai.
What is unique about Chennai is there is a total autocratic, arbitrary government and corruption has become a culture here. Opposition parties are weak. The media's job is to expose, but they have become inept.
Even a city like Bangalore is losing all its lakes to real estate builders...
Real estate mafia is there everywhere. Urban development is nothing but real estate mafia. This is one entity that creates the maximum black money, and it is not yet regulated. Sixty-five per cent of the money involved is black money.
And the mafia is very powerful and nobody -- the Enforcement Directorate, tax people, media -- is looking at them. Even the NDA (National Democratic Alliance) government has not come out with a law so far.
Look at Chennai. The most flooded area has the largest mall in the city, which is near the forest, the river and right inside a lake bed. One of the largest private hospitals in the city was completely flooded for three days.
In an interview, you spoke about the real estate mafia at work in the new capital being built in Andhra.
They will not be able to build anything except a few high-rise buildings. They will never be able to build a city. Not even one-tenth of what (Andhra Chief Minister N Chandrababu) Naidu is talking about will happen there.
The Modi government is planning 200 smart cities.
Smart cities are handing over cities to corporates like Cisco, Microsoft, Siemens, IBM, etc. Don't get carried away by the word smart cities. What is the guarantee that all rules will be complied with there?
At least now, you have a democratically elected set-up in the city, but the smart cities will be corporate-run. And most of the planning is done by real estate developers.
Look at Modi, who ruled a state for so many years, but is licking the feet of multinationals. It is like we can't live without FDI (Foreign Direct Investment). Can any nation grow on foreign investment?
What Make in India is he talking about? How did he grow? Who gave him food? Who gave him the school uniform? Everything was made in India. Have the farmers not been feeding 120 crore (1.2 billion) people? Are all these small industries you see in every corner of India making in America?
Is urban development in India in shambles?
Urban development in India is the source of all corruption. From top to bottom, you see only corruption.
Unless the government becomes law-abiding and sticks to rules and regulations, I don't see anything really happening. The noise that you hear in Chennai now will die away after a few days.
What are these people talking? That Modi should give them money. I would rather say, the Government of India should penalise the state government instead of giving them money. The Government of India should ask: 'Did you comply with the master plan? Did you comply with the development regulations? Did you implement the revised city development plan submitted?'
I am totally against the Government of India giving even one penny. Rather, they should penalise the state government.
Do you see any honest and efficient urban administration taking place anywhere in India?
I am afraid, no. Even (Delhi Chief Minister Arvind) Kejriwal has succumbed.