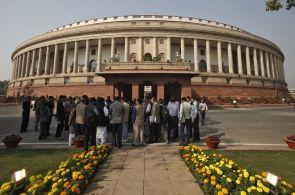 In an embarrassment to Congress, five party Members of Parliament from Telangana on Monday launched a 48-hour sit-in at the main gate of Parliament against non-fulfilment of the promise by the United Progressive Alliance government to create a separate state out of Andhra Pradesh.
The MPs, clad in white kurta pyjamas, carried placards which read -- "48 hours diksha for achieving Telangana" and "Give Telangana and Save Democracy".
The five MPs are Gutha Sukhender Reddy, Manda Jagannatham, Ponnam Prabhakar, G Vivekananda and Siricilla Rajaiah.
"We are staging 48-hour satyagraha dharna here from today onwards for urging the government to fulfil the promise of TelanganaState formation at an early date. It will conclude at 11 am on May 1," Ponnam Prabhakar said.
Meanwhile, Leader of Opposition in Lok Sabha Sushma Swaraj met agitators and offered BJP's full support to the Telangana cause.
She asked the UPA government to table the bill in Parliament on Telangana.
"We support Telangana. Government has broken promises repeatedly. We have been telling the government to bring the bill in Parliament. But they are not doing it," Swaraj said.
The agitators said MPs from various political parties including Janata Dal-United Chief Sharad Yadav, Samajwadi Party's Neeraj Shekhar and NCP's Supriya Sule met them and many of them expressed their solidarity with the cause.
Several Congress MPs and some Union ministers were also seen interacting with them.
"Our demand is that the Congress Party should implement the assurance given to us," Jagannatham said.
He said it was not a hunger strike and they would continue to sit at the main gate.
Telangana Congress MPs have been vocal in raising the statehood demand, sometimes causing discomfiture to the party as it is in power in the state.
The Centre had held a meeting of major political parties from Andhra Pradesh earlier this year, but said more consultations were needed to resolve the contentious issue.
Photograph: Reuters