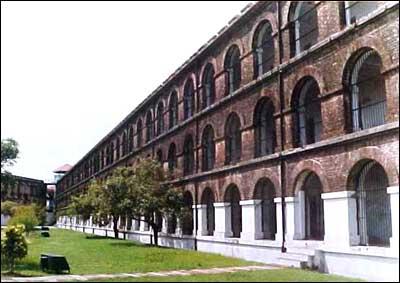 Over 150 Indians who served various sentences in Kalapani jail during the British regime for defying the orders of the administration or rebelling against the system were invited to take part in the celebrations of the 100 years of the establishment of the Cellular Jail on March 10, 2006.
 
"From the unmatched sacrifices of our freedom fighters to the tyranny of our colonial rulers, from being a torture cell to a place of pilgrimage, this historical monument has come a long way since its establishment 100 years back as a penal settlement. Cellular Jail, stood mute witness to the tortures meted out to the freedom fighters, who were incarcerated in this jail," said a press handout given to mediapersons in Delhi.
 
It acquired the name, 'cellular' because it is entirely made up of individual cells for the solitary confinement of prisoners. It originally was a seven-pronged, puce-coloured building with a central tower and a massive structure comprising honeycomb like corridors. 
 
The building was subsequently damaged and presently only three out of seven prongs are intact. The jail, now a place of pilgrimage for all freedom-loving people, has been declared a national memorial.
Situated in Andaman, Kalapani punishment was meant to serve as a deterrent to Indian freedom fighters fighting against the British.
 
Netaji Subash Chandra Bose hoisted the tri-colour near the cellular jail on December 30, 1943, and proclaimed independence from British rule.
rediff Features Desk adds:
It was the British-run Bengal government, and Governor General of India Lord Cornwallis, who conceived the idea of developing the Andaman Islands, in the Bay of Bengal, as a British colony in the 1700s.
Two officers – one of them was Lieutenant Archibald Blair (that's how Port Blair got its name) -- were sent to survey the area. A settlement was established on Chatham Island in a southeastern bay of the Great Andaman and was called Port Cornwallis (later its name was changed to Port Blair). There was much illness on the islands and the colony did not work out so the settlers were shipped back to the mainland.
The British government had too many prisoners on its hand, post the Mutiny of 1857 and the idea of establishing a settlement – this time a convict colony -- was revived. Some 200 prisoners were sent out initially to a jail, equipped with gallows, at Viper Island 15 minutes from Port Blair, and Kalapani was established.
Cellular Jail damaged in tsunami
The construction of Cellular Jail -- which got its name from the fact that it was made up of numerous individual cells it provided for prisoners destined for solitary confinement -- began in 1896 and was completed in 1906. The British authorities arrested hundreds of revolutionaries as more and more rebellions against the British surfaced across India. And hundreds of these prisoners were shipped out to Port Blair and were housed and ill-treated in this jail.
Veer Savarkar, many associates of Sardar Bhagat Singh, several revolutionaries of the Chittagong Revolt were some of the freedom-fighters who spent time at Cellular Jail.
The Andaman and Nicobar tourism authorities are commemorating the history of this jail with special ceremonies today.
Three surviving freedom-fighters -- Bimal Bhowmick, Kartik Sarkar and Adhir Nag -- were invited to Port Blair, as well as spouses, sons and daughters of deceased freedom fighters. There will be special functions to honour the heroes of 1857. Shubha Mudgal and Suresh Wadkar will participate in a special music programme Friday evening.