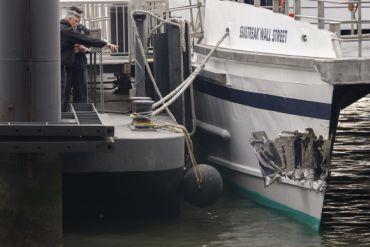 Nearly 60 people were injured, two critically, when a ferry carrying hundreds of office-going commuters from New Jersey crashed into a pier as it was docking in Lower Manhattan during the morning rush hour on Wednesday.
The crash caused people, who were standing and waiting to disembark, to collide into each other and some of the passengers hit the ferry's walls and seats.
The accident took place at around 8:45 am (local time) and according to officials at least 57 people were injured. Those injured were made to wear neck braces and taken on stretchers to local hospitals. Of those injured, two were critical while nine others were being treated for serious wounds.
The 141-foot ferry was operated by Seastreak Ferry and provides daily service from New Jersey to Lower Manhattan to hundreds of passengers who commute daily to New York for work.
It was moving at a steady speed of 11 to 16 miles per hour when it crashed into one of the loading dock at the pier. The crash caused a large gash in the hull of the ferry.
In a statement, Seastreak said the company's management is working closely with emergency responders, including the New York Fire and Police departments to treat the injured and respond to the situation.
"The vessel's crew immediately initiated emergency response procedures and authorities responded quickly due to the location," spokesman Tom Wayne said.
"Seastreak's incident response team is on scene. Our thoughts and prayers are with those that were injured," the statement said.
Initial reports said there were 326 passengers and five crew members were on the ferry.
In May 2010, a similar ferry crash had injured 40 people while a 2003 accident involving a Staten Island ferry had killed 11 people and injured dozens.
The National Transportation Safety Board said an 11-member team was heading to New York to begin an investigation into the cause of the crash.
Image: Investigators examine the damage to a commuter ferry that crashed during the morning rush in New York
Photograph: Brendan McDermid/Reuters