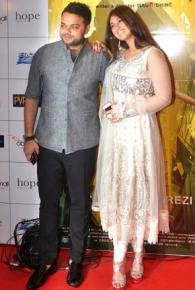 Farhan Azmi, son of state Samajwadi Party chief Abu Asim Azmi, on Tuesday said he was in the reckoning to contest against sitting Congress Member of Parliament and Union minister Milind Deora from the posh Mumbai South constituency in the upcoming Lok Sabha polls.
Azmi said he wanted to take on Deora as he has "failed" the youth while Shiv Sena candidate Arwind Sawant was a no match to the Congress leader.
"There should be someone who can take on Milind. In 2009, I was not ready to enter electoral politics. But now I am in the process of conducting a survey about my electoral prospects. If I can win one lakh plus votes, I will enter the fray. I do not wish to be just a game spoiler," he said.
In 2009 elections, Milind Deora, son of former minister and Congress heavyweight Murli Deora, had defeated Shiv Sena's Mohan Rawale in the constituency.
The Aam Aadmi Party has already announced the candidature of former banker Meera Sanyal from the seat for the forthcoming elections.
"I will be the party's youth wing leader till 2015, after which I will hand over the charge to another person. I am in the process of restructuring the state unit and making it a force to reckon with," Azmi said.
The SP has already announced the candidatures of Kamlesh Yadav and Raees Sheikh against Congress Member of Parliament Sanjay Nirupam in Mumbai North and Nationalist Congress Party MP Sanjay Dina Patil in Mumbai North East, respectively.
He said he would take up the issue of certain housing societies refusing to sell/rent flats to Muslims with city Police Commissioner Rakesh Maria and demand that such societies be booked under Sections 149 of CrPC and 153 (a) and 298 of the Indian Penal Code.
"Refusal is the violation of the right to live and own property," Azmi said, adding that his party was against discrimination of any kind.
"If police fail to act in 15 days, SP would expose the housing societies it has identified by releasing tapes of the sting operation which has been carried out by our volunteers,"
Farhan said.
Azmi junior also demanded deployment of women constables at naka bandis in night.
"We will start by deploying our volunteers with cameras at naka bandis in South Mumbai to keep a check on how women drivers as well as those belonging to a particular community are treated," he added.
Farhan had lost to Shiv Sena candidate Rupesh Mhatre in the 2010 by-election for Bhiwandi East Assembly seat, which was won by his father in the 2009 elections.
Abu Azmi had also won from Mankhurd and vacated the seat for his son.
Image: Ayesha Takia with husband Farhan Azmi