'He deliberately encouraged my rivals to diminish my influence in the party.'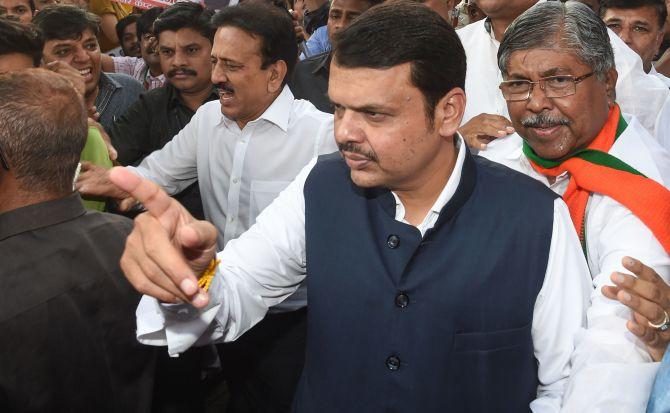 Anil Gote, the former Bharatiya Janata Party MLA from Dhule, Maharashtra, who quit the BJP before the 2019 assembly election, has alleged that senior BJP leaders Girish Mahajan, and recent entrants into the party Pravin Darekar (from the Maharashtra Navnirman Sena), Prasad Lad (from the Nationalist Congress Party) and Ram Kadam (from the MNS) were part of what he called the 'Varsha night club gang', a coterie of leaders around then chief minister Devendra Fadnavis that hatched conspiracies against party leaders with a mass following like Eknath Khadse, Pankaja Munde, Vinod Tawde, Raj Purohit and Prakash Mehta.
Barring Munde, the other leaders were not given tickets to contest the 2019 assembly election. Munde, Gote claimed, lost the election from her family stronghold of Parli in Beed to her cousin and NCP leader Dhananjay Munde because of inter-party rivalries.
Khadse, Purohit and Mehta rubbished Gote's allegations and distanced themselves from his statement.
"He must have said this based on what he gathered from his sources, but I cannot say anything right now. This could also be his personal opinion," Khadse told Prasanna D Zore/Rediff.com, reacting to Gote's allegations.
Khadse has a longstanding feud with Fadnavis and is constantly in the news for giving indications that he wants to quit the party.
"Right now, there is no such thing happening," said Khadse, when asked about speculation that he is on his way to join either the NCP or Shiv Sena like Gote.
"I am not an astrologer to predict what the future holds," Khadse said, adding to the mystery when asked if he could quit the BJP sometime later.
Gote, however, stood his ground when asked about the 'Varsha night club gang'.
"Girish Mahajan, Jaykumar Raval, Ram Kadam, Prasad Lad and Pravin Darekar would badmouth mass leaders like Khadse ji, Pankajatai and me because they would feel insecure about our growing strength," Gote said.
"I had warned the chief minister against these people and requested him to seek any clarification from me about my conduct or actions if he heard anything against me. But he never spoke to me. Instead, he too hatched conspiracies against me," Gote said, aiming his barbs at the former Maharashtra CM.
"He deliberately encouraged my rivals within the party to diminish my influence in the party," Gote alleged.
"Kapti mitrapeksha dildaar shatru bara (a magnanimous enemy is any day better than a cunning friend)," Gote said about his decision to join the Sharad Pawar-led NCP.
Dismissing Gote's claims, Lad, a recent-entrant into the BJP, said, "There is no point in responding to what Anil Gote has said. People meet the chief minister of a state to discuss various programmes and discuss the welfare of the state."
"It is so shameful to label the official residence of a chief minister's residence as a 'night club'. It is wrong to cast aspersions on a sincere chief minister who worked for 16-to-18 hours for the people of the state," Lad alleged, defending Fadnavis.
Purohit, a six-time BJP MLA from Mumbai who was denied a ticket this time, said he was pained at the party's decision, but expressed full faith in the central and state leadership.
"I am unhappy that my ticket was given to somebody who has been an opportunist and a party hopper. Rahul Narvekar fought the election from the Shiv Sena in 2004 and then on an NCP ticket in 2014. The party ignored a loyalist like me and gave a candidature to such a person is what has pained me," Purohit said.
"I will always remain loyal to the BJP because of great leaders like Narendra Modiji, Amit Shahji, J P Naddaji and Devendra Fadnavisji. They will always remain my inspiration," he added.
"What Varsha night club gang are you talking about?" Purohit asked, rubbishing claims that these leaders are planning to quit the party.
Former housing minister Prakash Mehta, who, according to Gote, faced the ire of the 'Varsha night club gang', and was also denied a ticket, said, "Gote can do anything to be in the limelight."
"I don't know what he has said, but this is figment of his imagination. I don't subscribe to his views," Mehta said.
"Every year we meet each other on the birth anniversary of our leader Gopinath Mundeji in Parli and there's nothing to be read into it," Mehta said about the coming together of Munde, Khadse and Purohit in Parli on December 12 on the late Gopinath Munde's birth anniversary, leading to speculation that these leaders were planning to quit the BJP.
Darekar refused to comment on Gote's claims.
---
Prasanna D Zore has covered the current upheaval in Maharashtra politics. He can be reached at prasannaz@rediff.co.in