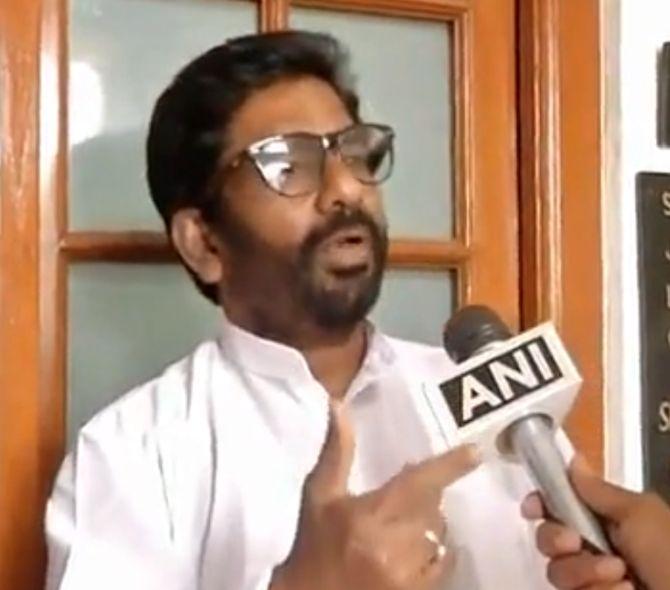 Shiv Sena MP Ravindra Gaikwad, who has been banned from flying by several airlines after he assaulted an Air India staffer on March 23, reached Delhi on Wednesday via a chartered flight, according to sources.
The chartered flight by which Gaikwad flew in to Delhi is believed to have been provided by another Shiv Sena MP Rajkumar Dhoot, reported India Today.
Gaikwad is expected to provide his version of the incident, which led to him being barred from flying on private carriers and Air India, on April 6 in Parliament.
After he was banned from flying, Gaikwad had, in fact, tried at least thrice to book a seat on the national carrier, using a new alias each time.
His staff member had tried booking an Air India flight AI 806 from Mumbai to Delhi and dictated the passenger's name as Ravindra Gaikwad. The ticket was promptly cancelled, an airline source said.
Thereafter, a seat was booked on flight AI 551 from Hyderabad to Delhi in the name of Professor V Ravindra Gaikwad. This ticket was cancelled too.
A third attempt was made for travel from Nagpur to Delhi via Mumbai when the MP's staff contacted a travel agent to book a flight for 'Professor Ravindra Gaikwad'.
The travel agent immediately contacted the local station manager and the information was forwarded to Air India's headquarters in New Delhi.
Gaikwad, who is from Maharashtra, flew on Air India from Pune to Delhi, then refused to leave the plane for an hour while he demanded an explanation for not being given a business class seat. The flight he had taken, however, was all-economy. When a 60-year-old manager arrived to persuade him to leave the plane, the MP assaulted him.
Sena to create ruckus in Parliament
Shiv Sena members in Lok Sabha on Wednesday warned of protests in Parliament if the issue of its MP Ravindra Gaikwad, who has been banned from flying by several airlines after he allegedly hit an Air India staffer, was not resolved soon.
Anandrao Adsul of the Shiv Sena said Lok Sabha Speaker Sumitra Mahajan was the custodian of the House "but our matter has not been resolved yet".
"If it is not resolved, then we will be force to carry our protest. Being part of the government, we do not want to create a scene but will be forced to do so. This (air travel) is his constitutional right," he said.
Adsul alleged that his party MP Ravindra Gaikwad was also manhandled by airline staffers. "Under which law has his travel by air been banned," he questioned.
Speaker Sumitra Mahajan said: "We will see to it."
-- With inputs from PTI