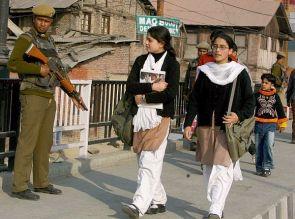 Facing fire over his remarks that ministers in Jammu and Kashmir were given money by the Army, former Army chief Gen V K Singh today sought to do damage control by saying it was not a bribe but the Centre expressed its willingness to order a probe.
The controversial general, who stepped down as Army Chief in May last year, has created a political storm with his statements saying that ministers in the trouble-torn state had been paid by the army since independence, prompting sharp reaction from National Conference and the Congress which are ruling the state.
He called a press conference at Gurgaon on the outskirts of the capital, at which he appeared to soften his allegations by saying that the payments were not for the personal use of the ministers but for promoting goodwill among the people. At the same time, he maintained he had not committed any mistakes in making the allegations.
"I did not commit any mistake. When I had said some politicians were given money, it was not meant for their personal purpose or political purpose. It was not for lining their pockets or for bribe. If somebody says that any minister was given a bribe, it is totally wrong.
"It was meant solely for stability...to win hearts and minds of people, to wean people away from separatist activities under the overall umbrella of sadbhavna (harmony)," he said.
Union Home Minister Sushil Kumar Shinde said that the government was ready to probe the allegations if the beneficiaries were identified.
Kashmir's mainstream leaders, including two Union Ministers Farooq Abdullah and Ghulam Nabi Azad, both former chief ministers of the state, reacted with anger to Singh's allegations.
National Conference ministers, past and present, issued a statement demanding that the names of those who had been given the money should be made public by Singh failing which they would consider legal action against him. They described his allegations as "absurd".
Reacting to Singh's statement, Union Home Minister Sushil Kumar Shinde said government was ready to probe if beneficiaries were identified.
"V K Singh should name politicians. He should reveal the names (of those to whom money was allegedly paid). If details are given, we can investigate," he said.
Farooq Abdullah demanded a CBI probe into the allegations made by Singh.
"I think time has come when a CBI inquiry should be held immediately to see what is the funding that the Army has done and who are the people that received these funds and how these funds have been utilised," he said.
Another former Chief Minister and Union Minister Ghulam Nabi Azad expressed shock over Singh's statement.
"I think it's a very, very terrible statement that he has made. It must be investigated. The Army has nothing to do with funding of political parties. They should never do this. The Army should be kept apolitical," said Azad.
"And if he has done that, he has done something extremely wrong."
Azad said he was shocked to hear about Singh's remark since he himself has been a Chief Minister of J and K.
Gen Singh claimed activities such as paying money to ministers were carried out by the Army in many areas and not limited to Jammu and Kashmir. He, however, refused to name anyone.
He said the "leakage" of an army inquiry report on the functioning of the controversial Technical Support Division set up by him amounted to treason and rejected the contention that the intelligence unit was his "private army".
Singh suspected that the report was "leaked" and a controversy is being sought to be created in order to cover up certain "burning issues".
"After the report surfaced, a number of burning issues were pushed to the background. Was this not a reason behind leaking the report...all this was done deliberately to create a smokescreen and divert the attention of the people," he alleged.
Slamming those who "leaked" the report about the functioning of the intelligence unit, he said "if we discuss the functioning of the intelligence agencies in public, then it is treason. It should be probed how this report was being leaked and action should be taken against persons who have attempted to make such a leak. This is treason."
Gen Singh said such activities cannot be carried out while being in uniform, therefore intelligence units carry out such tasks.
"Some people who say that the unit was my private army should discard such ideas. This unit was functioning under the DG, Military Intelligence. I am not here to micromanage things. I commanded 12 lakh men."
He also claimed that had the unit not been disbanded the recent incidents along the borders would not have taken place. "This is my claim."
Congress spokesperson P C Chacko said "irresponsible" statements from Singh brought "disgrace" to the Army.
"What he has said, I do not think he himself can prove it," Chacko said, adding, "Even a retired general is a general. He should not be making such statements."
Union Minister Rajiv Shukla said Singh's remark was not in national interest and that persons, who have held such high positions like Army Chief, should not make such statements after retirement without any substance.
J and K Sports minister and state Congress leader Taj Mohiuddin dared the former Army chief to name the ministers who were given funds.
Shinde told reporters that he has not received any communication from the government or anyone else demanding a CBI inquiry into Singh's statement on Army payments.
"I have not yet received any official communication from the Jammu and Kashmir government or any one else demanding a CBI inquiry into the V K Singh issue. I am yet to get details of the allegations made by V K Singh on payments made to Jammu and Kashmir ministers," he said.
Minister of State for Home RPN Singh said the V K Singh issue was a matter of national security and it could not be discussed in public.
"Anyone who has served in the Army and that too in such a top post should not be talking like this. There should be restraint," he said.
Asked whether any inquiry will be ordered by the home ministry, RPN Singh said the Army and the Ministry of Defence will look into it.
J and K CPI-M leader Mohammed Yusuf Tarigami said by making such claims, the former Army Chief has "insulted" the voters of the state.
While asking the defence ministry to order a high level enquiry into the allegations of Singh, Tarigami said "the people have the right to know the truth."
The Army has no role to play in the domestic politics be it Jammu and Kashmir or any part of the country. "The allegations demean the very democratic fabric of the country."
"All the political parties of the state irrespective of their affiliations should speak in a united voice on these serious allegations," Tarigami said.