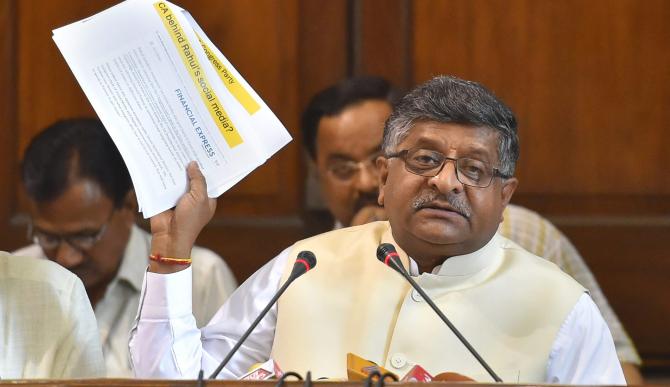 The Bharatiya Janata Party and the Congress on Wednesday traded charges over a Facebook data scandal involving private firm Cambridge Analytica, with the ruling party accusing its rival of 'data theft' to woo voters ahead of 2019 Lok Sabha polls, a claim the opposition party rejected.
The Congress also hit back alleging that the "BJP's factory of fake news has produced one more fake product", and accused it of hiring the firm's services in several elections, including in the 2014 Lok Sabha polls.
The trading of charges between the two parties came following the Facebook's admission last week that Cambridge Analytica used data that had been collected from 50 million users without their consent, an act of breach of privacy.
BJP leader Ravi Shankar Prasad, also the Union law and information technology minister, cited several media reports which said the company would work for Congress chief Rahul Gandhi ahead of the next Lok Sabha polls, and asked how many times Gandhi had met Cambridge's now sacked CEO Alexander Nix.
Claiming that the illegal use of people's data from social media could turn out to be the Congress' 'biggest scam', BJP spokesperson Sambit Patra said the government would launch a probe into the matter.
"Stealing data from social media is your (Congress) weapon. Cambridge Analytica is now Congress Analytica," Patra alleged.
Prasad alleged that the firm had been accused of using 'sex, sleaze and fake news' to influence elections and asked if the Congress too planned to walk the same path.
He asked Gandhi to explain the company's role in his social media outreach.
Rejecting the allegations categorically, Congress spokesperson Randeep Surjewala said neither his party nor its president has used and hired the services of Cambridge Analytica.
"The BJP's factory of fake news has produced one more fake product today. It appears that fake press conferences, fake agendas and fake spins and fake statements have become the everyday character of the BJP and its 'lawless' Law Minister Ravi Shankar Prasad," he told reporters.
Claiming that Cambridge Analytica and another Indian firm OBI, run by the son of a National Democratic Alliance leader, compliment each other's businesses, Surjewala said their achievements include managing four election campaigns successfully for the ruling BJP.
He claimed that Cambridge's local partner OBI talked of having achieved 'target 272+' (in 2014), providing constituency-wise database to BJP candidates and of extending support to it in national elections and state polls in Haryana, Maharashtra, Jharkhand and Delhi.
"It is not me who is saying so; it is Cambridge Analytica which is saying so. And they have partners in India whose businesses complement each other... The whole problem is when you dish out lies from a fake factory and fake products; this is how you get struck," he claimed.
Refuting the Congress' allegations that it was the BJP which had hired the firm during previous elections, Patra said over 1,000 websites and 10,000 individuals have claimed to have a role in the party's win in 2014 polls. "We have nothing to hide," he said.
"The Congress must explain if it has engaged in data trade with Cambridge Analytica," the BJP spokesperson asked.
Citing a media report which said the firm's services could be the Congress' 'brahmastra' against Prime Minister Narendra Modi in the next elections, he claimed the firm was hired to 're-launch' Gandhi.
Prasad at his press conference also noted that the number of Gandhi's followers on Twitter had shot up recently and wondered if it was due to the services of the firm that he achieved this 'fake popularity'.
"Will the Congress now depend on data manipulation and theft to woo voters? We have all seen how the party has tried to divide the society in Gujarat just in order to win an election. We are seeing what they are doing in Karnataka. This is straight out of the Cambridge Analytica playbook," he claimed.
Surjewala termed Prasad's remarks as yet another attempt at 'spin strategy' and to divert the country's attention from other issues like the death of Indians in Iraq, Gandhi's successful Karnataka campaign and the SC/ST atrocities Act issue.
Meanwhile, Prasad also warned Facebook of 'stringent' action for any attempt to influence polls by allowing data theft and even threatened to summon its CEO Mark Zuckerberg if needed.
Prasad said the Indian government fully supports freedom of press, speech and expression and is all for free exchange of ideas on social media.
However, any attempt by social media sites, including Facebook, to influence India's electoral process through undesirable means will not be tolerated, he told reporters in Parliament House complex.
"...let me make it very, very clear, we fully support freedom of press, speech and expression; we fully support free exchange of ideas on social media. But any attempt, covert or overt, by social media, including Facebook, of trying to influence India's electoral process through undesirable means will neither be appreciated nor be tolerated," Prasad warned.
"If need be, stringent action will be taken," he added.
When contacted for comments, a Facebook spokesperson told PTI in an e-mailed response that the minister has 'raised several important questions' but stressed that the company is committed to its policies of protecting users' information.
'We appreciate his attention to this matter and we will continue to engage with the government on this matter. We are committed to vigorously enforcing our policies to protect peoples' information and will take whatever steps are required that this happens,' the Facebook spokesperson added.
Prasad said that 20 crore Indians are using Facebook, making it the company's largest market outside of the US.
The minister also cautioned the social media giant and its CEO Mark Zuckerberg of repercussions under the IT Act in case of any data breach came to light.
"Mr Mark Zuckerberg, you better note the observation of the IT minister of India. We welcome Facebook in India, but if any data theft of Indians is done through the collusion of Facebook system, it shall not be tolerated. We have got stringent power in the IT Act, we shall use it, including summoning you in India," Prasad warned.
Asked if the government would initiate a probe on data usage by Facebook, Prasad said India has a regulator in the form of Telecom Regulatory Authority of India and in case of any specific complaints, the same would be taken up under a structured investigation.
"We have got very robust mechanism available, we will look into it. But today, this very stern observation I gave that let my warning be heard across the Atlantic far away in California," he said.
The minister added that India is strengthening its data protection laws and the Justice B N Srikrishna committee, tasked to suggest a robust data protection framework, has already done multiple rounds of consultation.
Incidentally, this is not the first standoff between Indian policymakers and Facebook. TRAI, in 2016, had issued regulations on discriminatory pricing over internet access that had led to ban of platforms like Facebook's Free Basics.
"The issue concerns national interest and national security. And the BJP will take it very seriously if by collusive methods the data assets of Indians are pilfered... My caution is with regard to democratic process," Prasad said.
The US Federal Trade Commission (FTC), an independent government body charged with ensuring that companies abide by their own privacy policies, is looking at whether Facebook violated a 2011 consent decree after media reports alleged that it had handed the data of millions of users to a political consultancy.
IMAGE: Union Law Minister Ravi Shanker Prasad addressing a press conference at Parliament house during the budget session of Parliament in New Delhi on Wednesday. Photograph: Vijay Verma/PTI Photo