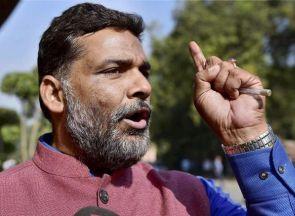 Former Rashtriya Janata Dal leader and Madhepura MP Rajesh Ranjan alias Pappu Yadav on Sunday announced the formation of Jan Karanti Adhikar Morcha aimed at providing a "strong third option" to Bihar voters.
The move came after a marathon meeting held in Patna with his supporters, including people from various walks of life, and hours after Chief Election Commissioner Nasim Zaidi said Bihar assembly elections scheduled later this year will be held in September-October.
"We are forming Jan Kranti Adhikar Morcha to provide a strong third option to the people of Bihar, who have been cheated by various political parties for the last 67 years. It will fight all wrongs in the society, it will fight the anti-people system, and bring in a revolution for development," Yadav told media persons.
He added that the front will stay away from segregations on the lines of caste, community and religion, and work for the people of Bihar.
However, stopping short from announcing that JKAM will be a full-fledged political party, Yadav said a core committee of his supporters was being formed, which will decide on this aspect within two weeks.
"We are forming a core committee of intellectuals. It will decide within two weeks whether we should go whole hog alone as an independent party, or merge with any other party, or enter into an alliance with others," Yadav said.
He added that he will also seek opinion from about 1.84 crore people of Bihar who frequent social networking sites, on whether the JKAM should become a political party to contest the coming assembly polls.
The Madhepura MP was expelled from RJD on May 7 on charges of indulging in anti-party activities. "In today's (Sunday) meeting, as well as, those who have been sending me messages over phone, my supporters are unanimous that the JKAM should stay away from Lalu Prasad and Nitish Kumar. We will do so," he added.

Image: Pappu Yadav said he launched the Jan Karanti Adhikar to provide a third option to the people of Bihar. Photograph: PTI