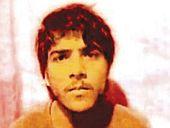 Rediff.com's Vicky Nanjappa outlines the final moments of Ajmal Kasab who was hanged to death in the Yerwada Jail in Pune early Wednesday morning
Prior to his hanging, Ajmal Kasab was asked if he had any last wish and his answer to the same was "No."

He was then asked if he wished to write any will, but once again he answered in the negative.


Kasab, usually very talkative by nature, was extremely quiet since the past two days after he was told about the date of his hanging.

He did not speak much and asked very few questions, an official told rediff.com.

He did ask authorities if there was any more room for appeal.

When he was told that there wasn't any, he resigned to his fate.


Prior to his hanging, Kasab was extremely nervous.

He said his prayers and then headed out to the gallows.

He told the authorities that he had no last wish and did not wish to contact anyone in his home country.

Once hooded, he did not say anything.

There was a bit of a struggle, but over all the process went on smoothly.


However, authorities are unwilling to divulge the identity of the hangman, who carried out the execution. There are contradictory views on the same.

While some maintain that it was a constable in the jail who carried out the task after training for a couple of weeks, others insist it was a person named Ratan from Mumbai.

Police officers say that they wish to be discreet about the hangman, as this was a high profile execution and they did not want him to come into the limelight unnecessarily.

The last hanging to have taken place in this state was in 1995. Sudhakar Joshi, accused of triple murder, was executed by a hangman who retired that very same year. The state has had no hangman since.