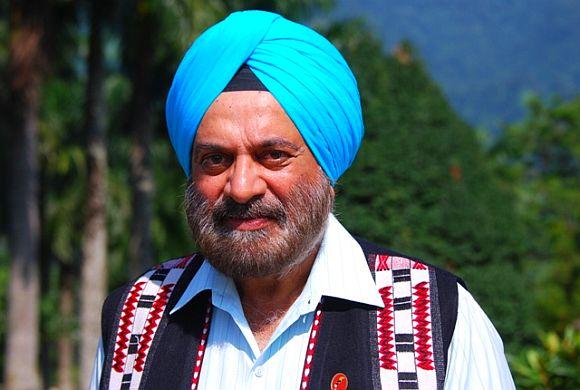 Former Army Chief General J J Singh (retired) on Saturday joined the ruling Shiromani Akali Dal and is set to take on Punjab Congress President Amarinder Singh from Patiala Urban seat in the February 4 state assembly elections.
Singh, who also served as the Governor of Arunachal Pradesh, joined the SAD on Saturday evening in the presence of party president and Punjab Deputy Chief Minister Sukhbir Singh Badal.
Badal told reporters Gen Singh had himself shown interest in contesting from Patiala Urban assembly seat.
He exuded confidence that he will pull off a "historic win" against Amarinder, who is also an ex-army man.
On Friday, Amarinder had said in a press conference that it would be for the first time in the history of army that a "Captain will defeat the General", when asked about his reaction over SAD fielding Gen Singh against him.
"A soldier's son will defeat you (Amarinder), uproot you from the Palace (taking a dig at Amarinder being from the erstwhile state of Patiala) and will confine you, that will be my historic win," Gen J J Singh said.
Badal said Gen Singh was keen to serve the people of Patiala so he decided to contest from there.
"Gen Sahib is from Patiala and he had shown interest in serving the people there. He said he wants to serve the people of the city where he was raised and spent his childhood. It was he who decided to contest from Patiala," he said.
Terming Amarinder as "arrogant", Gen Singh recalled an incident when as Arunachal Pradesh Governor he had called up the PPCC chief just before the results of 2012 Punjab assembly polls were to be announced, but the Congress leader failed to respond to his calls.
Gen Singh said he wondered what would be the fate of common citizens when Amarinder was not approachable to even a governor.
Asked about his future agenda, the SAD leader said he believes in taking one step at a time.
"I take one step at a time and give my 100 per cent to achieve the objective," he said.
About party manifesto, Singh said, "Akali Dal believes in making only those promises which it can fulfil and deliver."
Notably, in January 2003, J J Singh had been appointed as the General Officer Commanding-in-Chief of the Army Training Command and took over as Army Commander-Western Command in January, 2004. On January 31, 2005, Singh had assumed the office of chief of army staff.
After his retirement in September 2007, Gen Singh served as the governor of Arunachal Pradesh from 2008 to 2013.