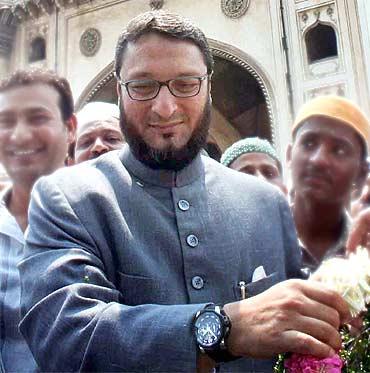 The ongoing controversy over religious conversion was fuelled by Majlis-e-Ittehadul Muslimeen chief Asaduddin Owaisi on Monday.
"Islam is the 'real home' of all religions in the world and hence the real 'home coming' will be when people of other religions embrace it," he said. "All are born as Muslim and are later converted to other religions.
Politicians from across parties condemned Owaisi. Nationalist Congress Party leader Majid Memon said that Owaisi is making such statements for vote bank and should refrain from the same.

Janata Dal-United leader Ali Anwar said that such statements by 'communal forces' harm the nation as a whole. Communist Party of India's Atul Anjan said that people who believe in democracy and such ideologies should not pay heed to communal remarks by Owaisi and others.

Owaisi represents the constituency of Hyderabad in the Lok Sabha.
Prime Minister Narendra Modi has been under attacking for failing to act against affiliates of the Bharatiya Janata Party for promoting Hindu-dominant agenda.

With inputs from ANI

Image: MIM leader Asaduddin Owaisi

Gharvapasi: Home is Where the Heart is!