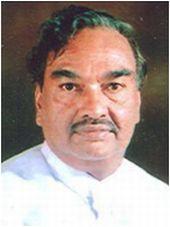 Senior leader of the Bharatiya Janata Party, K S Eshwarappa took over as the state party chief from outgoing party president D Sadananda Gowda on Thursday.
Eshwarappa said he was committed to maintaining unity in the party and to live up to the party's ideologies.
He said: "I will use my rich experience to boost the party to greater heights and to make it a leading political force in the state. I will do my best to keep everyone united and to maintain discipline and ideology of the party."
Eshwarappa, who was the energy minister in Karnataka Chief Minister B S Yeddyurappa's Cabinet, resigned from his state cabinet post before taking over as the party chief of Karnataka.
In the state's political circles, the appointment is being seen as a move to reduce the Congress party's share of votes from the backward classes.
The Congress has fielded senior leader Siddaramaiah of the Kuruba community as the face of the party.
The BJP, which is seen as a Lingayat-dominant party, has attempted to break away from the tag by appointing Eshwarappa, who also hails from the Kuruba community, as its chief.
Eshwarappa, who is holding the BJP office for the second time, said he would take charge on January 31, when the party's national president Nitin Gadkari is expected to arrive.
Image: K S Eshwarappa