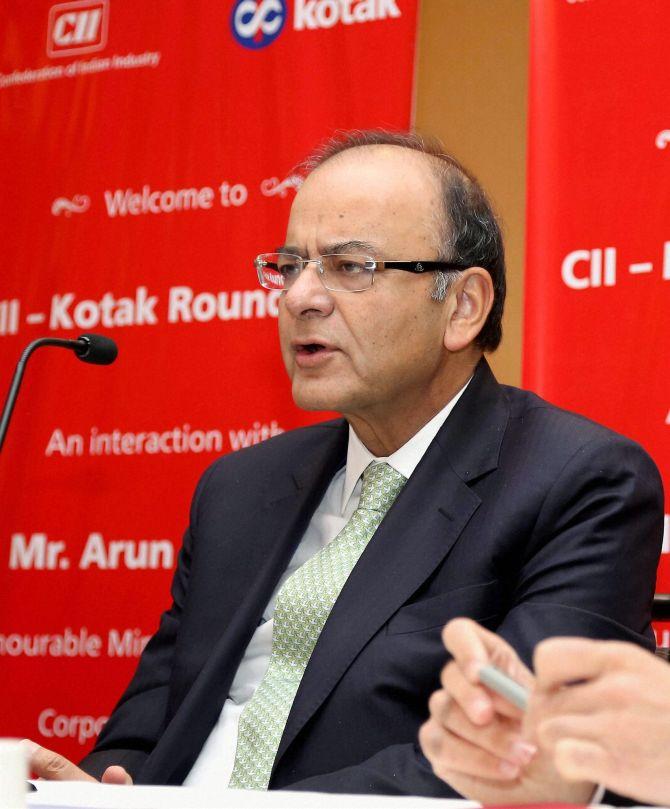 According to Finance Minister Arun Jaitley, who spent 19 months in prison during the 1975 Emergency imposed by the then prime minister Indira Gandhi, it is not possible for anybody to convert a democratic India into a "dictatorship" in this day and age.
Looking back at the dark days of the Emergency, the senior Bharatiya Janata Party leader said that 40 years back the media was vulnerable, police and bureaucracy were compliant, and for the Supreme Court also the Emergency was its "darkest hour".
"Is it possible to replicate such a situation now? I have my doubts," he said.
"Today, the media and the polity are strong and so are the global institutions. The world would not accept the world's largest democracy becoming dictatorial today," Jaitley told PTI in an interview in San Francisco.
Jaitley said the Emergency was a phase which showed that a democracy can be converted into a dictatorship by using some provisions of the Constitution and all the major institutions like bureaucracy, police, media and judiciary can collapse.
"I think, today the global awareness is in favour of the democracy and the kind of sanctions which can be imposed on a dictatorship itself can be a deterrent," he said.
A major controversy broke out recently after BJP patriarch L K Advani expressed concerns that "forces that can crush democracy are stronger" now and that Emergency-like situation could emerge again.
The comments were seen by the Congress as being aimed at Prime Minister Narendra Modi, while Aam Aadmi Party felt it was the "first indictment" of Modi's politics.
Other Opposition parties also said that Advani's comments should be taken seriously.
Without referring to Advani's comments, Jaitley said the media censorship is not possible today "because of the technology itself".
"You have news travelling through the internet and the internet can't be censored," Jaitley said.
He added that the polity was strong even during the Emergency, but "the media had by and large caved in".
Recalling his own experiences from the Emergency days when he was a student leader and was jailed for 19 months, Jaitley said he hopes that "the judiciary today is far more independent and does not cave in to any dictatorial tendencies as it caved in during emergency".
"But the fact that detentions are no longer possible without a basis, media censorship is no longer possible and hopefully judiciary would be far more independent, it would not be possible for anybody to convert a democracy into a dictatorship without these three limbs," he said.
It will be exactly 40 years on Thursday since the Emergency was declared on June 25, 1975.
Jaitley said the tradition of dynasty and dynastic political parties started with the Emergency.
It has been 40 years since the Emergency was imposed and it was the "darkest phase of Indian democracy" in post-independence India, he said.
"This was a phase where for two reasons the Emergency was proclaimed. The first reason was that Indira Gandhi's position as prime minister was challenged because she was found to have indulged in corrupt practices in election. And second was she wanted to use the power of dictatorship in emergency to convert India into a dynastic rule," the Minister said.
Jaitley said that Emergency was a phase "where civil liberty was suspended, personal liberty had no value, lakhs of people were detained, media was censored and judicial independence was completely throttled."
"I was a student leader at that time. I was on the forefront of fighting the Emergency. I was one of the first persons to be arrested during the Emergency. And then finally after 19 months in prison, when Emergency was relaxed, I had an opportunity to participate in the election campaign."
Looking back at "vulnerability of institutions" at that time, Jaitley said a large number of false cases – running into thousands and lakhs -- were registered against people.
"Not one policeman got up and said I would not register a false case. Detention orders against thousands and lakhs of people were passed. Not one collector got up and said I would not sign on a fake detention order.
"Except The Indian Express and The Statesman all major newspapers had collapsed and started praising the dictatorship. This was the vulnerability of the media. Even though the high courts displayed some courage in saying that detainees have the right to move to the Supreme Court for illegal detention, the Supreme Court by a majority of four against one reversed that judgement. I think, the emergency was also the darkest phase of the Supreme Court," he said.
Jaitley added there was a small group of lawyers and media persons, as also the political prisoners, who fought the Emergency.
"This country demonstrated in the post Emergency election in 1977 that India is not willing to be suffocated. And therefore the strong reaction against Emergency would scare. But more important are three other incidental factors which have occurred since then. Firstly, the Janata Party Government led by Morarji Desai brought one great institutional reform and amended the Constitution to provide that during Emergency Article 25 which is the right to life and liberty cannot be suspended. Therefore if right to life and liberty remains, unfair detention would no longer be possible," he said.
Jaitley was the president of Delhi University Students Union at that time and also the convener of the national organisation of youth organisations which Jayprakash Narayan had created.
"After Indira Gandhi's election was set aside by the Allahabad High Court and in the Supreme Court she got a conditional stay, the popular movement seeking her resignation had picked up. So on evening of June 25, 1975, there was a meeting at Ramlila Maidan. After the meeting, when I came back home, the police came to arrest me in the middle of the night. I managed to escape while my father engaged the police in some argument since they did not had detention order. I went to a friend's house and in the morning collected a large number of students and organised the only protest on June 26 anywhere in the country against Emergency," he said.
"So we burnt an effigy of Indira Gandhi and thereafter I was arrested as part of the protest. I was first kept in Tihar Jail, then taken to Ambala and brought back to Delhi. The police detained me under MISA," he added.
Jaitley said the Emergency helped him in hardening his views on various democratic institutions.
"That is something in my political life which has helped me till today -- be it the need of free media, the need of independent judiciary, values of personal liberty. These are values, I have cherished all along. And of course my stay in jail was an experience. Jail is a state of mind. If you are part of a struggle time passes by. I used to read a lot. Play a lot badminton and volleyball. I was very fond of supervising the kitchen. We were only allowed Rs 3 per day as food allowance, which was only enough for some roti and daal. I had seven cases against me," Jaitley said.
Image: India's Minister of Finance Arun Jaitley speaks about the Emergency in San Francisco. Photograph: PTI