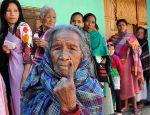 Congress leaders Rowell Lyngdoh and Roytre C Laloo will hold the post of deputy chief minister in the new Meghalaya government which will have 11 ministers.
Among other ministers H D R Lyngdoh, P Tynsong and A L Hek would be retained from the previous cabinet. The state Council of Ministers led by Chief Minister Mukul Sangma will be sworn on Tuesday.
The chief minister's brother Zenith Sangma would also get a ministerial berth besides three women. Two legislators, Clement Marak and Sniawbhalang Dhar, would also get ministership.
On the induction of three women in his government, the chief minister said, "I think we have made history by giving women one fourth of the strength of the council of ministers."
The swearing-in ceremony is scheduled at 11:30 am on Tuesday to be followed by the first Cabinet meeting of the new government.
Former Chief Ministers D D Lapang, who is the Congress chief, and S C Marak would be given charge as chief adviser to the government and chief of the state planning board respectively.
The Congress had won a total of 29 seats, two short of absolute majority in the 60-member House.
Twelve independent MLAs have also extended formal support to the government.