The eighth edition of the Jaipur Literature Festival kicked off on Wednesday to a grand start with a bevy of authors, poets, Nobel Laureates along with some Bollywood celebrities, trooping in to the pink city to participate in one of Asia's biggest literary jamboree.
Rajasthan Chief Minister Vasundhara Raje, who inaugurated the five day event, took a trip down memory lane and recalled the origins of the festival in the year 2006.
"When I came first to the festival there were around 40 people and last year it recorded a footfall of over 2 lakh people. The world is so fast-paced and it is through intellectual gatherings like this one can restore sanity, plug into other people and believe that there is a possibility of change," Raje said.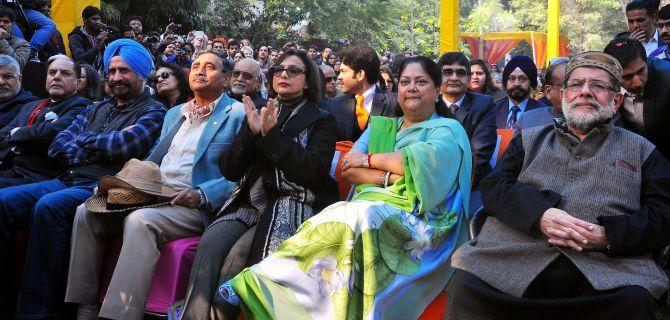 Vasundhara Raje sits in at the Rajasthani music event at the Jaipur Literature Festival. Photograph: Chandra Mohan Aloria

Over the course of the festival, nearly 300 speakers from various fields are expected to speak on a series of thought provoking issues ranging from gender equality to the global economic crisis and other issues relating to literature, art and films.
While the main event is being hosted at the historic Diggi Palace, other venues including the Clarks Amer, Narain Niwas and two Amer Fort and Hawa Mahal are also roped in.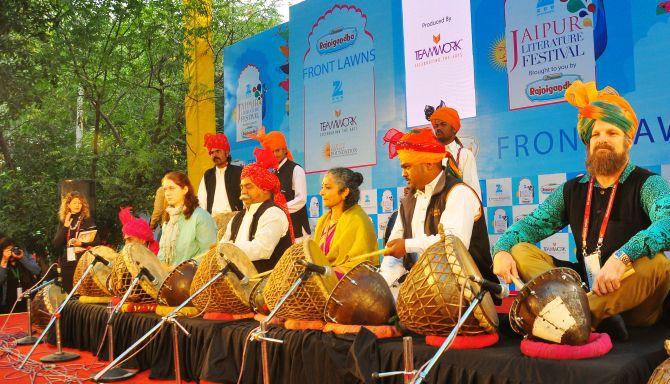 Performers enthrall the audience in the Rajasthani music programme at the Jaipur Literature Festival. Photograph: Chandra Mohan Aloria
Festival Producer Sanjoy Roy welcomed the "plurality of voices" at the mega event.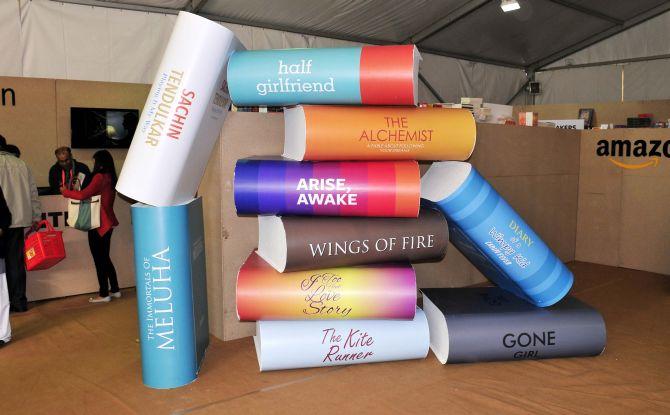 One of the booths at the festival presents the various books showcased at the festival. Photograph: Chandra Mohan Aloria
"Authors do not write because they have a right of violation, they do not write necessarily to please someone...for them it is important to put their thoughts on paper for a better tomorrow."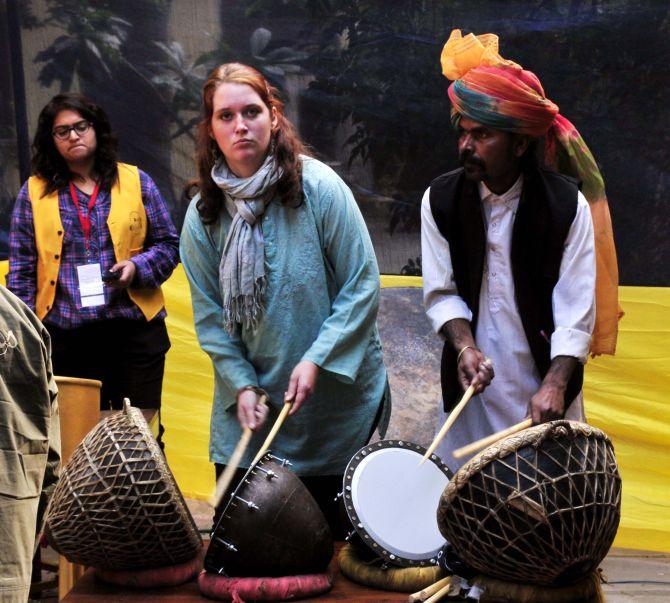 At tourist joins one of the performers at the festival. Photograph: Chandra Mohan Aloria
"Plurality of voices holds importance in countries like ours where there is great inequity and the only way to bring out equity and progress is by sharing knowledge, vision and education," he said.
Calling the festival an annual literary pilgrimage, festival Director Namita Gokhale said, the event had transformed since its debut in Neemrana in 2002.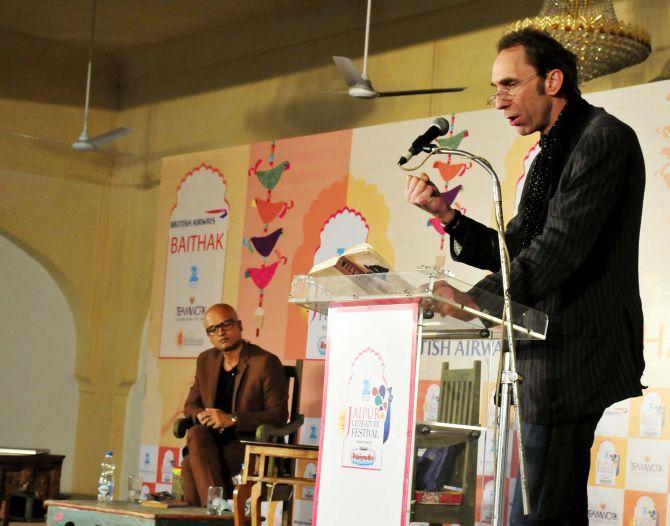 Will Self in conversation with Jeet Thayil at an event at the Lit Fest. Photograph: Chandra Mohan Aloria
"It's now celebrated as an annual journey of literature and critical thinking. The deliberations upon changing society, changing patterns and changing world have transformed the way south Asian literature is viewed across the world," she said.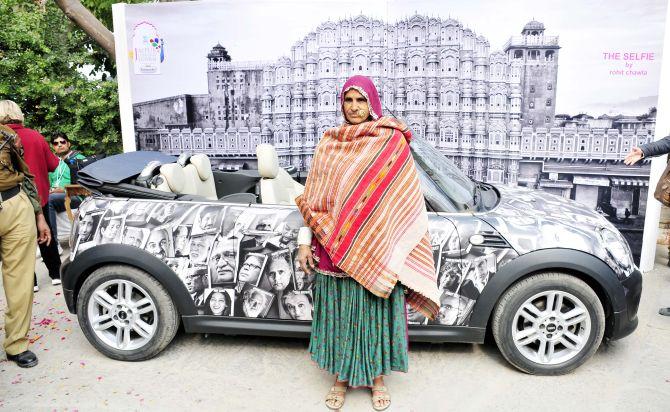 One of the performers poses for a picture at the Lit Fest. Photograph: Chandra Mohan Aloria
Participants hail from backgrounds ranging from experts in international relations, history and environment to those specialising in human nature, regional literature, art, photography, Bollywood, theatre and travel.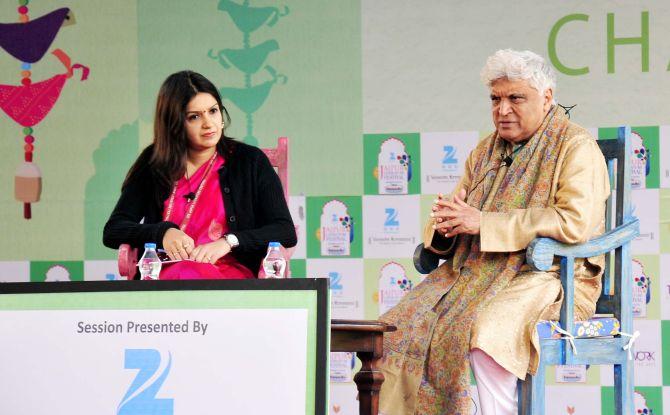 Javed Akhtar takes part in a conversation about poetry with Priyanka Chaturvedi.

Photograph:

Chandra Mohan Aloria
China-born British author Jung Chang, former President A P J Abdul Kalam, actor Naseeruddin Shah, playwright Girish Karnad, Nobel laureate V S Naipaul, renowned contemporary travel writer Paul Theroux, Pulitzer Prize winning poet Vijay Seshadri, Oscar-nominated screenwriter and novelist Hanif Kureishi are few of the participants lined up for the Lit Fest.