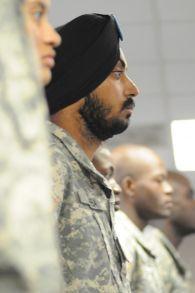 US Congressman Joe Crowley, who spearheaded the campaign for the Federal Bureau of Investigation to create a new separate hate crimes category in the agency's uniform crime reporting programme to track bigoted attacks against Sikh Americans, has now set his sights on fully integrating Sikh Americans in the US Armed Forces.
Crowley, a New York Democrat, who is the co-chair of the Congressional Caucus on India and Indian Americans and vice chair of the Democratic Caucus in the US House of Representatives, began circulating a Dear Colleague missive among members of Congress addressed to Defence Secretary Chuck Hagel for him to find a way 'for patriotic Sikh Americans to serve in the military.'
Aides to Crowley told rediff.com that the lawmaker was hoping to get as many signatures as he can to create a critical mass so as to convince Hagel to permit Sikh Americans to serve in the military while preserving their religious obligations of wearing a turban and beard.
Crowley said, 'There are currently three Sikh Americans serving in the Army -- they have made our country proud, winning awards for their service and performing admirably overseas -- including in Afghanistan. However, their service is only allowable because they received waivers from the US military allowing them to serve.'
'As you know, Sikhs have a long tradition of service in the US military -- serving since World War I. That changed in the 1980s when the military enacted a dress code that essentially prevented future Sikhs from signing up,' he noted, and added, 'Now, because of their beards and unshorn hair, they are not permitted to serve without special permission from the military.'
Crowley said, 'If Sikh Americans are otherwise qualified, the presumption should be that they are able to serve in the United States military. They are already ably serving in the military in countries like Canada, the UK and India, and it's time for them to be able to serve here as well.'
Thus, in the letter, he began circulating among his colleagues, he urged Hagel to make it easier once and for all for Sikhs to serve.
Crowley's letter to Hagel called on 'the US Armed Forces to modernize their appearance regulations so that patriotic Sikh Americans can serve the country they love while abiding by their articles of faith.'
He pointed out, 'As you know, three devout Sikh Americans have been granted individualized accommodations to serve in the US Army. These patriotic soldiers wear turbans and maintain beards in a neat and conservative manner, both in accordance with operational requirements and their Sikh religious beliefs.'
'They are also able to wear protective equipment, including helmets and gas masks, in conformity with safety requirements,' he added.

He noted, 'These Sikh soldiers have given their all in service of their country. Major Kamaljeet Singh Kalsi earned a Bronze Star Medal for his service in Afghanistan, which included treating multiple combat injuries and reviving two clinically dead patients back to life; Captain Tejdeep Singh Rattan earned a NATO Medal for his service in Afghanistan; and Specialist Simran Preet Singh Lamba successfully graduated from the Military Accessions Vital to National Interest (MAVNI) program for his proficiency in Punjabi and Hindi.'
Thus, Crowley argued in the letter to Hagel, 'Given the achievements of these soldiers and their demonstrated ability to comply with operational requirements while practicing their faith, we believe it is time for our military to make inclusion of practicing Sikh Americans the rule, not the exception.'
He said, 'Devout Sikhs have served in the US Army since World War I, and they are presumptively permitted to serve in the armed forces of Canada, India, and the United Kingdom, among others. Notably, the current Chief of Army Staff of the Indian Army is a turbaned and bearded Sikh, even though Sikhs constitute less than two per cent of India's population."
Crowley further stated, 'Throughout the world, and now in the US Army, Sikh soldiers are clearly able to maintain their religious commitments while serving capably and honourably.'
He informed Hagel that the members of Congress, 'look forward to working with you to end the presumptive ban on Sikh Americans in the US military and extend opportunity to Sikh Americans who wish to serve and defend our nation.'
Crowley's campaign coincides with the petition to President Obama launched by Kalsi to rescind the strict rules that have eschewed hundreds of Sikh Americans from joining the military.