New software will ensure that anyone with more than one election ID has to surrender the other cards.
Megha Manchanda reports.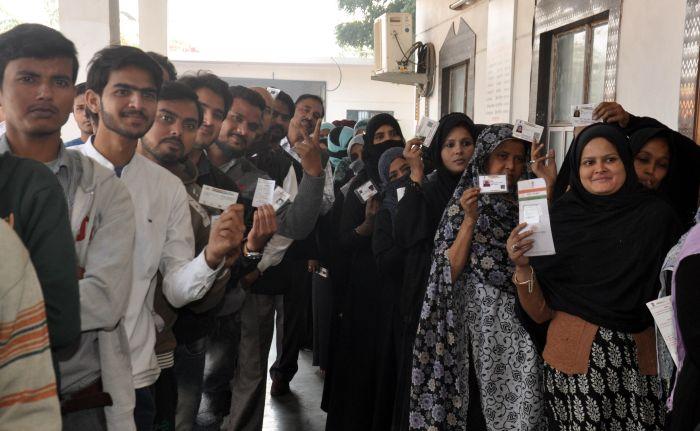 The Election Commission, through its portal ero.net, has begun the process of weeding out voters whose names appear more than once even as it awaits the Supreme Court verdict to allow it to link the Aadhaar card with the election card.
De-duplication, which will be a technology-driven exercise, will gather pace after the Supreme Court verdict on whether Aadhaar should be linked to the elector's Photo Identity Card, said a senior person in the know.
The de-duplication system, launched in phases across states, has been designed to identify similar names on the list and remove ineligible voters by filtering their addresses, dates of birth and other details.
The new software would ensure that any person with more than one election ID has to surrender the other cards, which will be invalidated.
Oil-marketing companies did a similar de-duplication exercise for domestic cooking gas connections through KYC, which restricted one connection for each household. The connections were later linked to Aadhaar for subsidy disbursement.
A senior EC official said: "The portal has started functioning and very soon we should be able to witness the results of the exercise."
After on-line registration, a voter gets a unique ID, with which s/he can check the status of the application.
The new software enables the voter to upload her/his personal details, reducing the chances of mistakes in the voter-ID card.
Currently, if someone intends to get her/his name removed or added to the voter's list, it can be done only by a booth-level officer.
The exercise, currently being undertaken, will prove beneficial in the upcoming state elections, besides providing a fresh database for the Lok Sabha election.
According to the EC, the number of registered voters during the 2014 Lok Sabha election was 834 million, a jump of 16 per cent over the 2009 figure.
The voter turnout during these polls was 66.4 per cent, an improvement over the 58.19 per cent in 2009.
The EC, which had faced flak for its proposal to link Aadhaar with the election card, says this de-duplication exercise will act as a tool for cleaning old records and updating the election database.
"With this software we want to send out a message that we don't want to infringe on anyone's fundamental right to vote. We only want to use Aadhaar as a de-duplication tool," the official said.
After the completion of the digitisation exercise, keeping the database safe and secure will be the EC's next challenge.