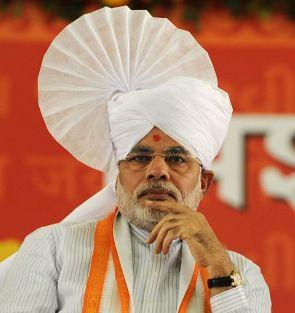 The Election Commission has disapproved Narendra Modi's khooni panja (bloodied hand) remark made during poll campaign in Chhattisgarh and asked him to be more careful in his public discourse in future.
Taking strong note of Modi's remarks, which he claimed were used figuratively and as colloquial metaphors, the Commission said it was not satisfied with his explanation in reply to its notice for Model Code violation.

The Commission said references to political adversaries with expressions such as khooni panja and zalim haath (ruthless hand) "cannot but be construed as injurious to the cause of decorous political discourse."
"Having regard to the totality of facts and circumstances of the case and submissions and contentions made by you in your reply under reference, the Commission expresses its disapprobation in the matter, and expects that you will stand by your above referred commitment and to be more careful in your public discourse in future," the EC order said.
The Congress, which has hand as its symbol, lodged a complaint with the EC over Modi's remarks.
The three-page order to Modi said the Commission noted his consciousness of its concern about the language of public discourse in cases of personal attacks on leaders and the need to adhere to stricter standards, but it "does not accept your stand that the same standards cannot be enforced for remarks against political parties".
"The Commission considers that while criticizing the policies, programmes and past records of political parties also, the expressions and utterances, even when used colloquially, have to be couched in such terms that the same conform to dignity, decorum and public morality," it said.

"The tone, tenor and content of your impugned speech and the use of expressions 'khooni panja' and 'zalim haath' when read in the context of your whole speech, ...leave no scope for doubt that the same refer to the complainant party and its reserved symbol and are violative of the above mentioned avowed object underlying the provisions of the Model Code of Conduct...," the order said.